Product
Dealpath Quarterly Product Recap – Fall 2017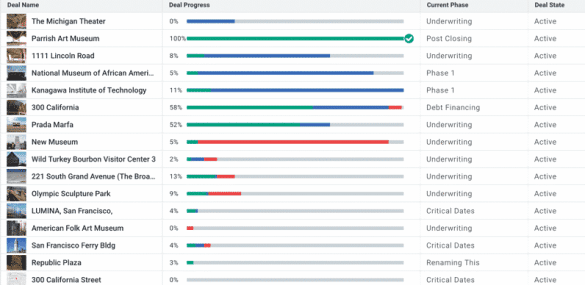 The past few months were busy ones for the product development team at Dealpath. Pulling from both our long-term roadmap and the feedback of many customers, we've introduced new product features, improved our existing services and increased the overall performance of the Dealpath platform.
This quarter, we focused on three areas to increase team efficiency:

Easier Uploads:

We made improvements to help teams more efficiently get their deal information on Dealpath through an easy to use Excel uploader.

Deal Visualizations:

We added new deal visualizations to show deal progress across deal pipelines.

Deal Access Control:

We understand that teams work with different sub-groups of people and securely share the information that different folks need. New options for configuring access rights enables even more effective and efficient collaboration.
Easily import data from Excel
While Microsoft Excel is a great tool for crunching numbers, it wasn't designed to organize CRE deal information or for collaboration. Fortunately, Dealpath is specifically designed to help CRE teams organize their deal information using in an intuitive and elegant layout. By combining the data your teams have in Excel with the collaboration and workflow features in Dealpath, you get an improved deal management system.
For teams using Excel, we recently introduced a new Excel importer tool (available from every deal info page). Deal members simply create a quick, one-time import mapping based on their existing Excel reports. Once the mapping is complete, updating the deal info page is as simple as dragging-and-dropping the latest updated file into the appropriate deal on Dealpath.
Deal progress visualized
Dealpath allows teams to organize their deal workflow into phases and tasks. Deal owners can set individual and role access at the task level, so members can securely share comments and files relevant to the appropriate people, and assign task owners who can update the status of the task.
With the new "Deal Progress" and "Current Phase" display fields (available on the Dashboard and Reporting pages), deal members and team admins can see the summary breakdown of all tasks across all their deals, a percent of tasks that have been officially marked complete, and the current phase that the deal is in — helping teams to quickly see which deals are on-track, and which deals need attention.
Multiple, customizable deal views
Working on a deal typically means collaborating with parties across different teams (internally or externally), across different deal phases, and not everyone necessarily needs to see the same information on a deal.
Based on customer feedback we received,  we've released a major improvement to the Deal Info page. Using Dealpath's powerful templating system, teams can now create multiple info view templates per deal, allowing deal information to be better-organized across multiple pages. Teams not only have the ability to set up standardized templates for all of their deals, but also set up custom templates for different deal types and property types.
Additionally, info view templates can be ascribed to specific team members or deal roles, which will limit that view to just those people specifically added. This ensures that, regardless of how many people are working on a deal, everyone will have access to the most relevant and up-to-date information that they need.
And there's so much more to come….
The Excel importer, deal progress fields, and multiple informational view support are just a sample of the new features now available on Dealpath. There are several major new integrations and updates coming in the next few months, so be sure to stay tuned!