What do the most successful real estate investment firms do to drive smart investment decisions? They leverage their pipeline data (current and historical data).
For many real estate investment firms, it can take hours to aggregate pipeline data from multiple sources (Email, Excel, Salesforce, Teams) and compile into a single report. The infographic below compares accessing pipeline data that is stored and managed in legacy applications to accessing the same data that is managed in a deal management platform (spoiler alert: it takes 3 minutes!!).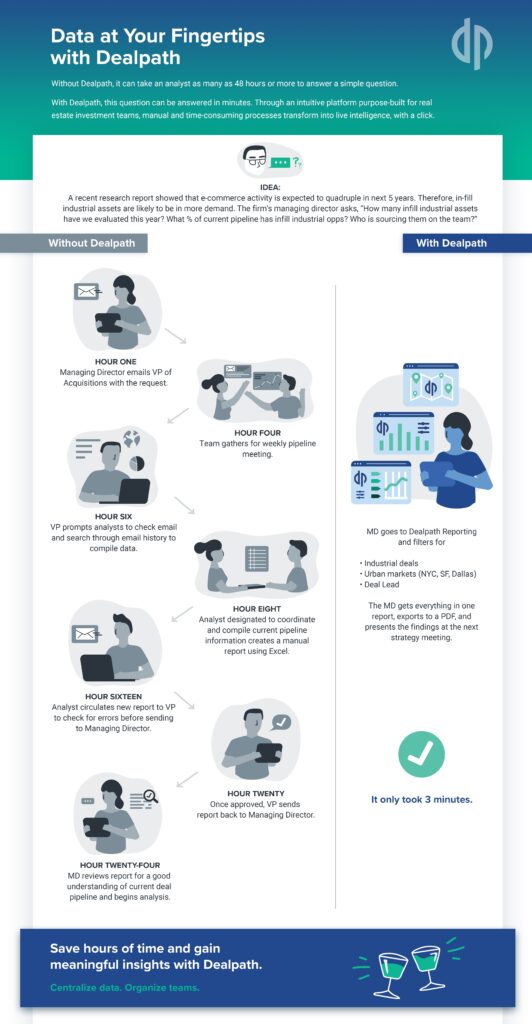 Dealpath Powers Real Estate Investment With Real-Time Pipeline Visibility
There's a reason why more real estate investment firms partner with Dealpath. Top real estate investment firms including Blackstone, Oxford Properties, AEW, Bridge Investment Group, and Principal are leveraging the Dealpath platform to source, track, and manage deal pipeline and associated data, files, and tasks. With all their data in a single location, teams and stakeholders collaborate seamlessly, get real-time visibility into accurate, up-to-date information, and make strategic, predictive decisions.
To get started, and learn more, we recommend requesting a free demo.