Before you can prioritize the most important and lucrative deals in your pipeline, you need to know which deals require your attention. However, knowing which deals require your attention at any given time can be challenging—especially as your pipeline grows.
Now, custom notifications, a new Dealpath feature, allows you to easily stay up-to-date on every deal that matters. Read on to learn about how your firm can automate deal communications and boost team-wide transparency with custom notifications in Dealpath.
Custom Notifications: A Smarter Way to Notify Team Members of Deal Progression
Staying abreast of real-time pipeline updates is the only way to tackle high-priority deals at the earliest opportunity. Now, you can receive actionable updates on critical deals directly from your inbox.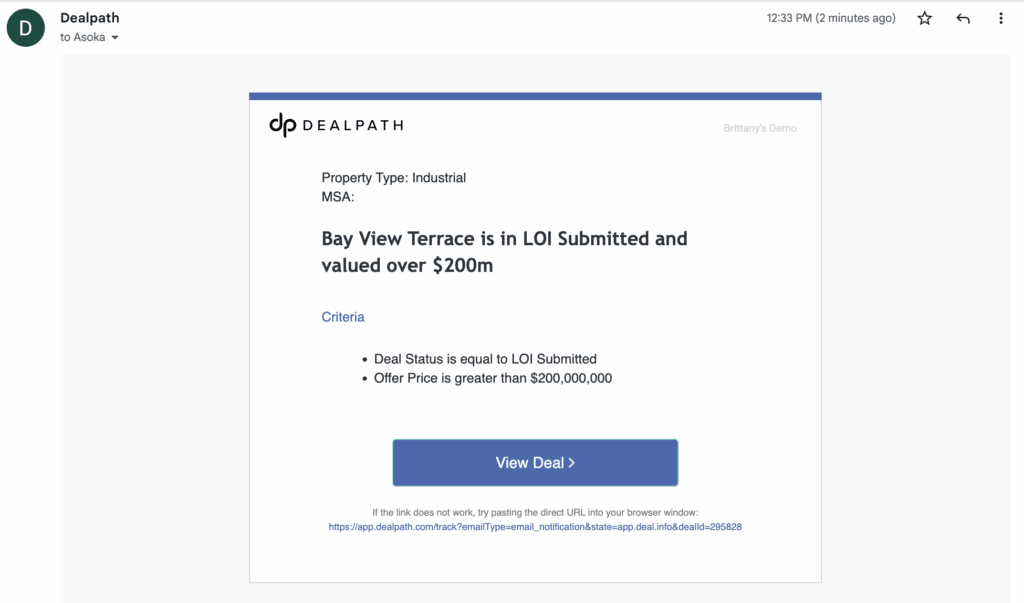 Custom notifications in Dealpath will alert you of important progress on deals that matter to you based on defined criteria. Whenever a deal reaches a certain stage or meets other specifications, you'll receive a notification via email.
Automatically Alert Team Members When It's Time to Start Working Deals
As an acquisitions associate, for example, you may not need to see live updates for every file uploaded during underwriting. You would, however, want to know when underwriting is complete and the deal is ready for a more thorough evaluation. Similarly, the VP of Acquisitions may want to know precisely when an associate has finished writing the IC memo.
Now, Dealpath admins can configure rules to push custom notifications to team members after these milestones are complete. Consequently, team members can jump on mission-critical tasks right away.
Automating these notifications further reduces the manual communication required by your team, bringing even greater efficiencies to workflows in Dealpath. Instead of leaving a comment on a deal, you can simply push deals through workflows based on your pipeline processes, knowing that relevant team members will be automatically informed.
Surface Deals Matching Certain Criteria to Stakeholders
Beyond milestone alerts, custom notifications also enable stakeholders within your firm to stay up-to-date on deals matching certain criteria. For example, a Chief Investment Officer may only want to see early-stage updates on deals in highly competitive verticals like industrial. Or, an Investment Committee member might want to know if a deal of a certain size reaches the LOI stage. Fund managers are naturally eager to see which deals are allocated to their funds.

Leveraging custom notifications increases transparency throughout your team, ensuring deal updates reach relevant team members or stakeholders without a manual lift on your team's end.
How It Works: Configure Rules Based on Deal Stage & Other Custom Fields
Dealpath admins can easily configure custom notifications for the entire organization to ensure the right team members are notified about relevant deals at the right times.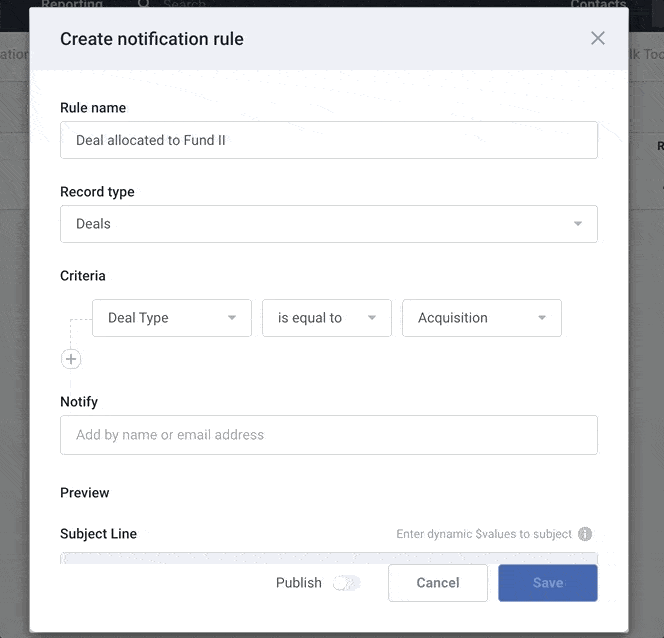 To configure custom notifications, simply log into Dealpath and access the admin tools. Then, set up rules based on the deal type, deal status or any other field you may want to track. Finally, simply select who should receive these notifications. Once complete, all relevant team members will receive email notification for deals matching this criteria.
The subject line and email content can be customized to help stakeholders instantly view updates on critical deals directly from their inboxes.
Learn More About Custom Notifications
If your firm is already managing its pipeline on Dealpath, please reach out to your customer success manager to learn more about configuring this new feature.
To learn more about custom notifications and other ways your deal team can build efficiencies in Dealpath, request a demo.