Effectively sourcing, tracking and managing pipeline with minimal friction means instant access to accurate deal data is a top priority. With Dealpath Outlook Add-In, you can manage your pipeline and inbox simultaneously by adding and updating deals directly within Microsoft Outlook, all without leaving your inbox.
Dealpath Outlook Add-In empowers you to easily leverage up-to-date data while working deals and reduces friction in your existing workflow, helping you manage your deal pipeline with ease. Now, you are freed up to focus on the work that's most impactful and important to your firm.
Read on to learn more about how Dealpath's Outlook Add-In puts accurate deal data at your fingertips.
What Can You Do With the Dealpath Outlook Add-In?
Dealpath's Outlook Add-In seamlessly pushes deal data from your Microsoft Outlook inbox into Dealpath in just a few clicks, allowing you to easily add new deals to the pipeline. You can also update existing tasks by adding new files and comments.
Add a New Deal to the Pipeline
By using Dealpath's Outlook Add-In, you can build your pipeline right from your inbox. Received an exciting new property flyer? Add it directly to Dealpath by simply clicking on the Dealpath Outlook Add-In button and creating a new deal.
Add Comments & New or Updated Files to Existing Deals
In addition to adding new deals, Dealpath's Outlook Add-In can also help you keep existing deals on track and up-to-date by adding files and comments. Received an updated environmental report? Add the new file to Dealpath in seconds. Did the county approve your site permit request? Let the team know by adding a comment within that task in Dealpath, directly from Outlook.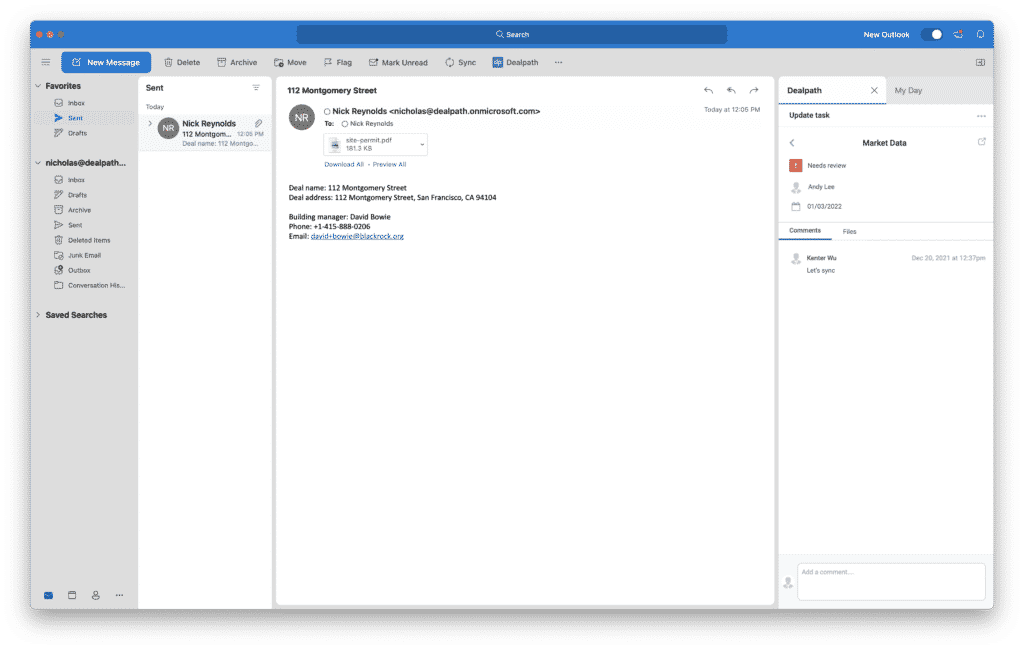 By pushing these updates through via the Outlook Add-In, you and your team can continue collaborating on deals faster and easier.
How Can I Install Dealpath's Outlook Add-In?
Installing Dealpath's Outlook Add-In is simple, easy, and allows you to begin enjoying new efficiencies right away. The installation instructions are the same as all other Outlook Add-Ins.
To install the Dealpath Outlook Add-In, follow the steps below:
Click on the Home ribbon in Microsoft Outlook, then click "Get Add-Ins". Alternatively, click "File", then "Manage Add-Ins" to initiate the same process through a web browser, rather than within Outlook directly.
Once the list of available Add-Ins is open, type "Dealpath Outlook Add-In" in the search bar. Click on the Dealpath Add-In after it appears.
Click the "Add" button, then follow the directions to install it.
Log in to the Dealpath Outlook Add-In with your unique user information.
After installing our Add-In within Outlook and logging in, it's now ready for use. You can get started adding deals and updating files or tasks from your inbox right away.
How Will It Help You?
This add-in provides the seamless connectivity you need to retain the highest standard of accuracy when it comes to deal information, data, documents, and more by allowing you to simultaneously manage your inbox and update real-time deal information:
Simplify workflows by adding new deals from your inbox, without the frustration of toggling between windows and applications
Keep existing deals up-to-date by adding comments or files to existing tasks
Save time you'd otherwise spend manually logging deal data
Get Started Using the New Outlook Add-In
Ready to start driving efficiency at your firm with Dealpath's Outlook Add-In?
If you're an existing Dealpath user, follow the steps outlined above to install the Dealpath Outlook Add-In and get started. Feel free to contact your Customer Success Manager for guidance.
If you're not an existing Dealpath user, schedule a demo to learn how Dealpath can help your team collaborate and grow your topline.