Even as the pandemic's effects linger, IBISWorld's recent report affirms that the commercial real estate space shows no signs of slowing, with 3.8% year-over-year growth projected and a $1 trillion valuation. To grow a competitive portfolio, real estate investment managers must race forward to source every relevant deal, analyze potential returns, and follow internal deal execution protocols. Unfortunately, technology, process and communication-related complications often leave deals hanging in the balance, meaning that firms run the risk of doubling back on certain deals, or losing opportunities to competitors. Honing in on real estate pipeline management can help you to eliminate bottlenecks, ensuring that deals flow properly and that your team works efficiently. 
Read on to learn about 8 real estate pipeline management bottlenecks you can eliminate with the right technology.
8 Bottlenecks You Can Eliminate to Improve Real Estate Pipeline Management
As your firm scales, reevaluating how your technology empowers efficient investment is a natural step. These are the most common bottlenecks that prevent investment management firms you can eliminate by upgrading to purpose-built technology.
1. Storing Critical Deal Data in a Local Drive or Shared Drive
Data should be the driving force behind your real estate pipeline management strategy, but leveraging it should never require substantial effort. Real estate investment management teams that store data either on a local network drive or shared drive often suffer two significant consequences.
First, others within the company may access potentially inaccurate data. As assets move throughout their lifecycles, teams generally update this data for their own use. But when data is siloed across various teams, there is no single source of truth to look to. Investors aren't updating data in real time; they're updating one spreadsheet, which other parties may not be aware of, or even have access to. In turn, teams may ultimately use inaccurate information when weighing investment decisions.
Second, using that information to evaluate a deal can become a hurdle in and of itself. When your data's primary home is a spreadsheet, finding answers to urgent investment decisions involves extracting that data, then aggregating other sources. This can take significant time, especially with multiple spreadsheets to contend with. Even after working diligently to find this data, investors may still lack the full confidence required to move forward based on these data-driven insights.
Employing a cloud-based deal management system to host your deal data ensures that everyone in your team has streamlined access to real-time data, instead of making the best of potentially inaccurate information. Your team can make updates on the fly, whether they're traveling for work, working from home, on vacation, or meeting an investor for coffee. Because your entire team has access to that platform, they can independently find and use that data.
2. Lack of Real-Time Visibility Into Real Estate Pipeline
Proptech continues to reduce the time it takes to effectively source, analyze and execute on deals. Nonetheless, remaining alert of which deals are in your pipeline and where they stand is paramount for investment managers to effectively deploy funds, prioritize tasks and allocate other resources. If you can't see which deals are approaching closing and which items remain open, how can you plan accordingly?
As a consequence of relying on tracking sheets, many firms can't easily generate a list of all deals in progress. Updating these spreadsheets requires significant time and bandwidth, which delays crucial updates for executives. For a true indication of where deals stand, managers must first check in with multiple team members, which becomes increasingly unscalable.
Using a deal management software platform ensures that all updates are reflected in real time, rather than incrementally. Because investment managers can easily enter updates as they occur, managers and executives can stay apprised of every update along the way. 
For many real estate investment firms, it can take hours to aggregate pipeline data from multiple sources (Email, Excel, Salesforce, Teams) and compile into a single report. The infographic below compares accessing pipeline data that is stored and managed in legacy applications to accessing the same data that is managed in a deal management platform (spoiler alert: it takes 3 minutes).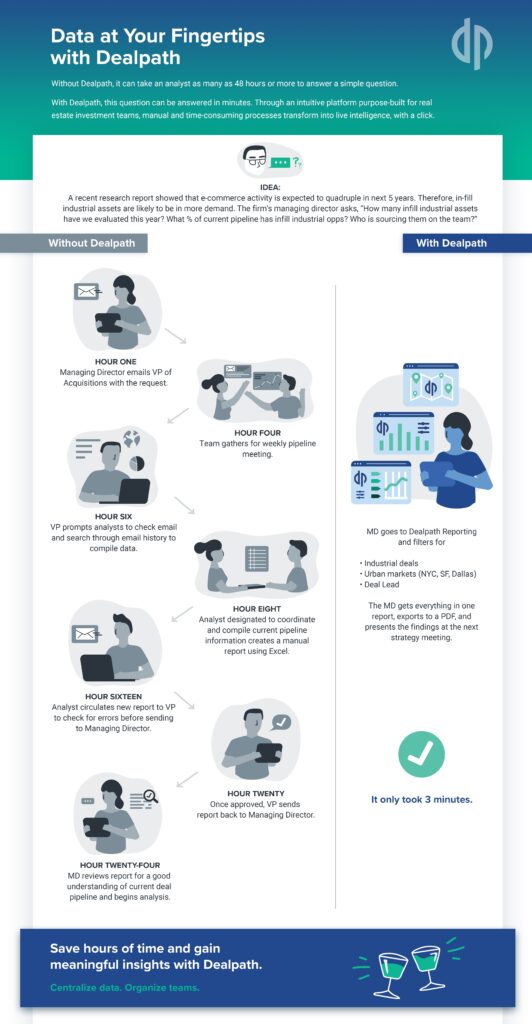 3. Unstandardized Data
Making deal data accessible is paramount, but another crucial consideration is how that data is formatted. As you gather information to review investment opportunities, you're amassing a treasure trove of data that holds tremendous value when it comes to understanding market trends and setting benchmarks for future investments. Without standardized data at the ready, though, comparing deals like you would "apples to apples" requires significant upfront work.
While you should always carefully consider deal management platforms, many dynamically standardize data based on field mapping as that data flows in. As a result, you can find and use data within your system faster and easier, making your data your true competitive advantage.
4. Working Across Disparate Systems Like Email, Project Management Tools & File Sharing Services
In order to best manage your firm's real estate pipeline, your team must have the resources required to be productive. However, the traditional workflow model of cobbling together tools like Excel, email, project management software, cloud-based file sharing services and countless other systems generally stands in the way of productivity. Even with clearly defined steps at every juncture, shifting from one platform to the next requires a change in mindset, and often, duplicative data entry.
To streamline deal flow, find tools that enable you to accomplish more with less. Rather than relying on multiple systems for various functions, adopt technologies that incorporate several tools involved in your firm's day-to-day. For example, Dealpath allows users to communicate on individual deals, track current and future tasks, store up-to-date files, and much more. Centralizing these functions within one tool ensures that data, tasks, and other important pieces remain in sync, rather than disjointed through several disparate systems.
5. Unstandardized (or Ad-Hoc) Deal Review & Execution Processes
Working in a systematic, highly organized and predictable fashion is the only way to efficiently scale real estate pipeline management processes on your firm's path to growth. After all, reviewing more deals inevitably empowers you to zero in on the best opportunities. Yet, a lack of clarity around the steps involved in this precise process, and which deal types require further vetting, poses challenges.
What should analysts review when first examining a deal? At what stage should they explore historical comps and market trends? Are there specific permits required to close on ground-up industrial development deals in Pennsylvania? When finding these answers requires work, or these procedures are simply unclear, inefficiencies inevitably become evident further down the deal pipeline.
Rather than leaving things to chance, adopt technology that presents these requirements in the form of a checklist. Because generalized checklists may omit deal specifics, be sure to find a way to create conditional deal checklists that include specific steps based on certain details. This not only provides clarity for existing team members, but also expedites onboarding for those familiarizing themselves with new processes.
6. Lack of Automated Workflows
The most important real estate pipeline management and deal decisions should always fall to intelligent investors. But, that doesn't mean investors should be responsible for every leg of the process. As you work to identify bottlenecks in how you manage your real estate pipeline, consider where automating select processes may behoove you.
The goal of implementing automation is never to bypass important decisions, but to arrive at these touchpoints with reduced friction. For example, if deals are normally routed to an executive or manager after gathering data, then automated workflows can dynamically push those deals to their inboxes based on defined rules related to real estate pipeline stages. By implementing automation, you can streamline deal flow along the real estate pipeline process, while maintaining your time-tested investment criteria.
7. Manual Reporting
Routine reports on both deal pipeline and general market trends help to keep executives informed about progress and project targets, while also aligning teams on priorities. Unfortunately, when crucial deal information is siloed throughout various systems, this task is rarely simple or turnkey.
To create a pipeline report, analysts must gather the most up-to-date information across the acquisitions team, then cross-reference the real estate tracker spreadsheet to identify next steps. Creating market-specific reports similarly requires gathering data, potentially from numerous team members, then manipulating it. Reports can provide tremendous insight, but the steps involved in creating them frequently inhibit teams from creating them in a scalable fashion. With reporting taking priority, it's not uncommon for analysts to leave more pressing deal execution work by the wayside.
Add speed and precision to your reporting by utilizing a tool that does this work for you. Many deal management platforms dynamically create pipeline reports in just a few clicks. In fact, Dealpath allows users to create highly filtered reports based on factors like location, deal stage, and much more. By utilizing a tool that produces reliable, accurate reports in seconds, your team can deliver relevant information on a consistent basis, without ignoring other pressing items on their to-do lists.
8. Manual Deal Sourcing & Data Entry
As your firm reviews more deals in the market, you're choosing the best deals from a wider pool–but without intuitive technology driving your process, these deals likely come at the expense of your team's time. Manual data entry is one of the most avoidable time-consuming activities when considering real estate pipeline management software, in that there are numerous alternatives when you pivot away from traditional spreadsheet-based processes.
Instead of relying on analysts to input data, which leaves room for error, adopt a solution that minimizes manual data entry. Deal management solutions like Dealpath enable you to source deals simply by uploading data via a spreadsheet, or in other intuitive ways. By removing this overwhelming burden from their plates, your team can focus on higher-priority action items that require their full attention and expertise.
Streamline Real Estate Pipeline Management
There's a reason why more real estate investment firms partner with Dealpath. Top real estate investment firms including Blackstone, Oxford Properties, AEW, Bridge Investment Group, and Principal are leveraging the Dealpath platform to source, track, and manage deal pipeline and associated data, files, and tasks. With all their data in a single location, teams and stakeholders collaborate seamlessly, get real-time visibility into accurate, up-to-date information, and make strategic, predictive decisions.
Transitioning to new software should never mean foregoing your existing processes and workflows. Download this free white paper for a deeper look at how you can leverage industry-specific real estate pipeline deal management software to expedite deal flow and make your data your competitive advantage.