Between the early stages of finding a qualified property and the relief that comes with signing tenants, the real estate development process is jam-packed with detail-oriented and deadline-driven work involving numerous parties. Often spanning several years, development teams must work towards and track countless milestones; missing even one can delay completion. According to a NAR survey, 50% of commercial members indicated that projects were delayed due to materials and permits, 32% due to hiring workers, and 18% due to issues obtaining lender financing–all of which can be mitigated with proper oversight. In this article, we'll outline the stages of real estate development, while also exploring how development teams leverage technology to work in a more focused, scalable manner.
Jump to:
The 3 Stages in the Real Estate Development Process
For simplicity's sake, there are three main stages in the real estate development process: pre-development, construction, and operation. More complex projects may have other stages related to specific considerations developers must make based on their goals, location and other variables. Some firms may break these stages into different phases, or use different terminology to classify them. Build-to-suit projects with designated, lease-ready tenants are more straightforward and incur lower risk.
1. Pre-Development: Acquiring the Property, Planning the Project & Administrative Work
Pre-development is the first stage of real estate development, in which teams complete analytical and administrative work required to initiate building. Typically, this process involves significant communication with third parties, which makes tracking activities even more important. These are some of the steps that may be involved in the pre-development stage:
Analyzing a property and its market to determine the highest and best use
Performing feasibility studies
Budgeting hard and soft costs
Conducting surveys and obtaining environmental reports
Acquiring the property, including land purchase execution and due diligence procedures
Obtaining land use approval and building approval permits
After obtaining the building permit, the project is normally ready to move into the next phase: construction.
2. Construction: Shovels in the Dirt
With all relevant permits in hand, the next stage in the real estate development process is construction. During this phase, development teams must work with a construction company to diligently track the progress of each phase. Concurrently, developers begin marketing the building to potential tenants, ideally striking a pre-lease agreement.
The final step in the construction process is obtaining the certificate of occupancy, which municipalities grant, provided that the building is in compliance with all regulations. To prevent costly delays or a disorganized approach, development teams might track the many steps involved to reach this milestone in a spreadsheet. When this information is fragmented across systems, it can be challenging to easily identify which tasks have been completed, and which remain.
3. Operation: Monetizing the Property
Now that the construction phase of the real estate development process is complete, the final step is monetizing the property. For some developers, this might mean leasing it to tenants, then holding, while generating revenue. For others with different strategies, it might instead mean leasing the property to tenants, then selling it to a buyer. Regardless, the goal during the operations phase is to generate revenue based on your investment strategy.
Scaling the Real Estate Development Process
Managing all of the moving parts in the real estate development process is no simple task. When information is fragmented across systems, spreadsheets, and email inboxes, teams tend to duplicate efforts when tracking how projects are progressing from one stage to the next.
There are, however, ways to add structure, predictability and transparency to the process by leveraging purpose-built real estate development software. Below, we'll outline some of the ways that leading development teams systematize the process to streamline day-to-day work, maintaining real-time visibility into project progress.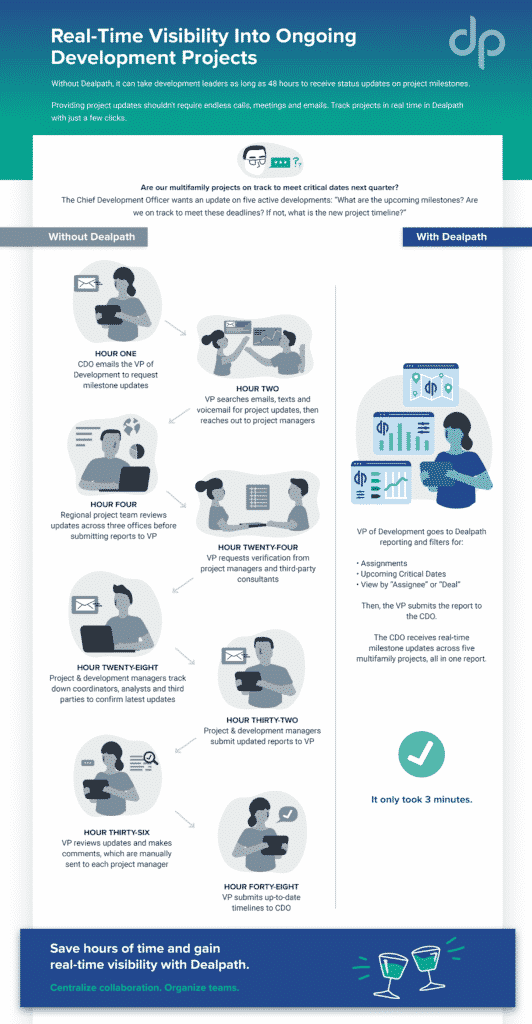 1. Work from Standardized Commercial Real Estate Development Process Checklists
When development teams create checklists that chart out the full scope of new projects, this manual work can detract from deal execution. Rather than spending time aggregating all of the tasks involved in pre-development, construction, and operations, teams that use deal management software like Dealpath can simply generate commercial real estate development process checklists that map out this process for them. Project requirements tend to vary by the deal type, asset type, location, and other variables, so be sure to select a platform that can auto-populate tasks based on these variables.
Relying on standardized development checklists ensures that no important tasks slip through the cracks as projects evolve.
2. Track Project Tasks & Dates In Real Time
How can you determine when certain milestones will be complete based on recent changes? As you scale the real estate development process to take on more projects, relying on a project management tool that tracks past, upcoming and overdue tasks is essential. Certain milestones are dependent on others, but dynamic dependencies ensure project timelines can shift as they evolve.
Because deal management platforms like Dealpath are cloud-based, meaning team members can input changes as they occur, you can gain real-time visibility into how projects are progressing. As a result, executives can make critical decisions about how to better allocate resources, re-assign tasks, forecast results and more.
3. Simplify Collaboration with External Partners
As the real estate development process winds on, your team will be seeking and receiving information from countless third-parties, like:
Legal teams
Environmental consultants
Construction teams
When feasible, real estate development software can ease the burden on your team by allowing external collaborators to submit deliverables and update data directly, without involvement from your team. This reduces the risk of human error, while giving your team more time to work on high-priority tasks. Be sure to confirm that they can only view limited information that won't compromise your strategy, though.
4. Streamline Reporting
Reporting about milestone progress for ongoing development projects is critical for keeping stakeholders in the loop and identifying bottlenecks, but often comes at the significant expense of your team's time. Before confidently providing updates, most teams must reach out to third parties, comb through spreadsheets, and verify that all information is accurate. For development teams with critical projects to execute on, this isn't scalable.
Relying on a tool like a deal management platform that captures this real-time information can dramatically streamline reporting. In Dealpath, developers can build reports by filtering for assignments and upcoming critical dates. In just two clicks, developers can generate a real-time snapshot of project progress–without taxing their teams.
Why Developers Rely on Dealpath to Scale the Real Estate Development Process
L+M Development Partners, a leading commercial real estate development firm that works from conception to completion, relies on Dealpath to create an "always-on" repeatable process that boosts predictability and efficiency. Learn how Dealpath has allowed L+M's team to scale their project flow in the case study in the link below.