In commercial real estate, optionality wins. Whether your firm sources hundreds or thousands of deals per week, you always want the earliest access to lucrative deals across your target markets. Spending time screening each deal prevents your firm from investing team resources into deals that would never pencil out.
But what if your firm could arrive at this initial screening stage even faster? What if it took no time at all to add deals to your pipeline, giving your team the bandwidth to evaluate hundreds of more deals?
Dealpath Data Ingestion (DDI) eliminates manual data entry, adding new deals to your pipeline directly from your inbox. Building your Dealpath pipeline with DDI empowers your firm to evaluate new deals first and act faster. Without time invested upfront, you can also rapidly amass market intelligence in your deal management solution by ingesting every deal in your target markets.
Ingest Deals Into Your Pipeline Faster, Easier and More Accurately
DDI is a trusted, vetted and proven data service that seamlessly extracts and ingests deals into your Dealpath pipeline so your deal team can jump right to evaluations, spending less upfront time on administrative work. As your team receives new flyers, simply forward them to the ingestion team to add them to your pipeline queue.
After you've submitted the flyer or OM, you'll see these deals in your data ingestion queue and, eventually, your pipeline. Then, your deal team can begin evaluations right away.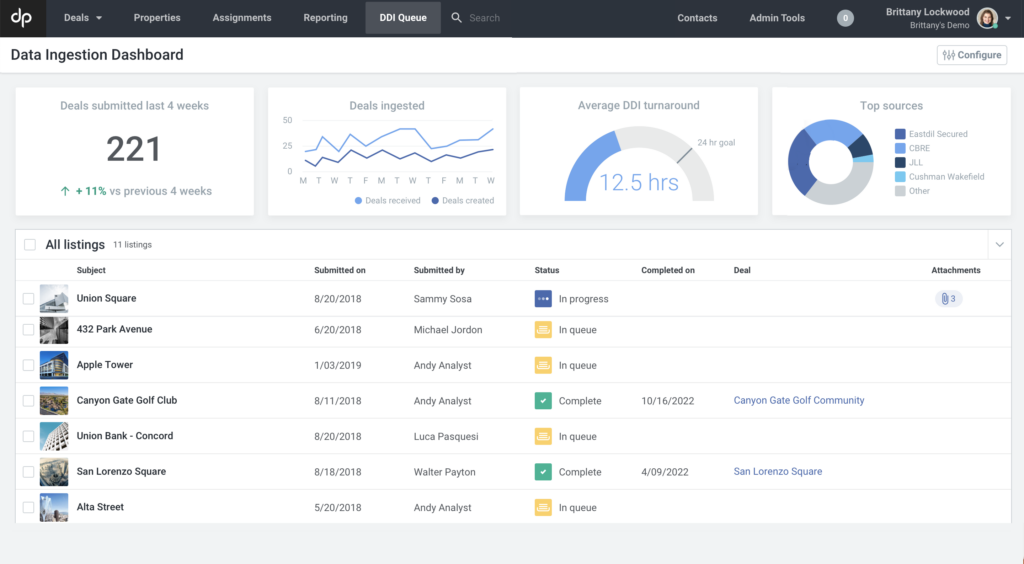 Eliminate Time-Consuming Manual Data Entry (While Still Building Your Competitive Advantage)
From purchase price to comparables, net operating income, number of units and more, consider how much information your team captures for every pipeline deal. Leveraging DDI means that you no longer need to begin this process by manually entering volumes of information –or worse–cutting corners or not entering deals altogether.
As your firm receives OMs and flyers from brokers, simply forward them from your inbox to your pipeline, conserving hours of time previously spent on repeatable, low-impact tasks.
Minimize Human Error
Whether you're managing your investment deals in Dealpath or Excel, polluting your pipeline with dirty data is dangerous. In a highly competitive market where every number matters, your data is only as good as its accuracy. Even the most careful analysts are bound to, at one point, miskey a number. Proptech, specifically deal management, has eliminated the need for firms to run their pipelines on post-its and prayers.
DDI's extraction procedure includes a manual review, giving your firm the conviction to act quickly and confidently. The paradigm has shifted: now, you don't even need to lift a finger until you're ready to pursue the deal or move it to dead.
Working with a trusted, vetted data partner ensures your data is clean and precise. Accurate data helps your deal team to thoroughly evaluate these opportunities, without the looming risk of a misplaced number skewing a seemingly lucrative transaction analysis.
Prioritize the Work that Matters Most: Analysis, Negotiation and Execution
Bogged down with due diligence and reporting priorities, it's not uncommon for teams to neglect new deals to make deadlines. However, this begs an important question: by the time you get around to execution, will you be the first to act?
Seamlessly ingesting deals into your pipeline with DDI replenishes the bandwidth your firm needs to prioritize analysis, negotiation and execution over repetitive work. After forwarding a flyer or OM, your team can jump straight to analysis.
At scale, growing your pipeline could mean closing significantly more deals–without relying exclusively on new hires for additional work.
Evaluate More Deals And Amass Market Intelligence in Your Proprietary Deal Database
While not every deal will pencil out, pipeline growth can still yield a strengthened competitive advantage. Think about it this way: if you receive 50 flyers each week, and your deal team must upload corresponding information into a pipeline spreadsheet, then increasing that to 300 would significantly impact their bandwidth. After all, they can only begin analysis once this information is uploaded.
What if you could find those same deals, data and all, uploaded in your pipeline? What if analysts could find the cap rate, NOI and cash-on-cash returns to know in seconds if the deal meets your risk profile and is worth pursuing? Wouldn't evaluating hundreds of more deals each month be a no-brainer?
Scaling your deal pipeline won't only give you more opportunities to grow your portfolio–it also enables you to grow your proprietary deal database with competitive market intelligence. Even deals that you immediately pass on carry infinite value in the form of market comps, fueling data-driven analyses for years to come. In a competitive market, building data assets to memorialize, decipher and act on intelligence is a key differentiator.
Slice and Dice Data to Surface the Most Profitable Opportunities in Real Time
Centralizing your firm's data in a single source of truth creates powerful efficiencies. Watch the 3-minute Dealpath reporting and data analytics demo video to learn how leading institutional investors like Principal Real Estate, Nuveen and L+M Development Partners make data their competitive advantage with Dealpath.