High-volume deal makers evaluate hundreds or thousands of deals every month, adding to their ever-growing databases of closed and dead deals. But surfacing the right information–at the precise moment that you're screening, underwriting or reviewing a lucrative new opportunity–is key to outperforming competitors. If you can't act on competitive intelligence in real time, then is the data you collect really fueling your digital deal advantage?
We're thrilled to introduce Dealpath's Power Search, which adds powerful new search capabilities that will help dealmakers and their teams comb through deals, files, tasks and contacts in Dealpath to find the exact information they are looking for in seconds. With Power Search, everything that was once frustratingly unsearchable or time-consuming to find is now at your fingertips.
Power Search: The Fastest & Most Precise Search in Deal Management
Power Search will deliver an even more seamless experience for deal teams managing their pipelines in Dealpath, helping them access data and information stored in their databases in seconds. For example, you may not remember which OM contained a deal with a tennis court. Simply searching "tennis court" in Dealpath will instantly surface the file you're looking for.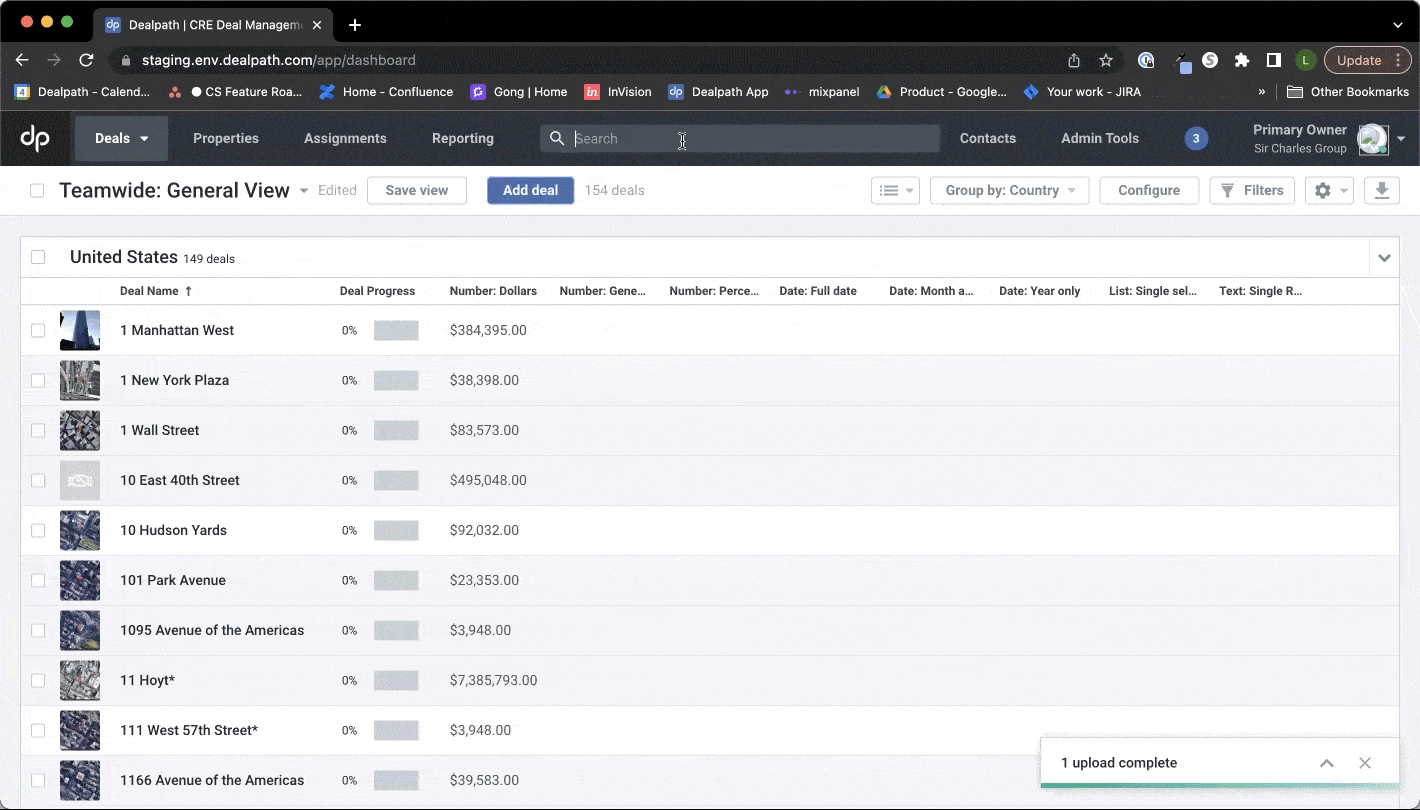 Dealpath's search bar will now display results that match keywords within:
Word, Excel, PowerPoint and PDF files, as well as other file types
Image files and scanned files such as deal flyers, IC memos and more
The deal's location (street address, city, state, region, etc)
The name of a task or assignee
Comments left by you or a team member within a specific deal or task
And more!
While it was always possible to find deals based on the deal's name or address in Dealpath, Power Search will make this process even more seamless. This new search functionality will also generate more specific results that are better aligned to the keywords you search and your goals in searching for them. Now, all of the deals, tasks, contacts and files you've ever added to Dealpath are only a quick keyword search away.
How Power Search Works in Dealpath
Dealpath's search bar now functions like your favorite search engine, serving even more precise results faster than ever.
You can now search keywords related to any deal, task, file or contact attribute, including:
Property type or region, like "multifamily high-rise apartments" or "Portland Metro"
Task names, like "submit letter of intent" or "marshland"
Task assignees, like the name of an analyst or a specific environmental consultant assigned to that deal
Comments left on a deal or task by you or another team member, such as "update based on latest reports"
Deal flyers, letters of intent, IC memos and any other PDF or image files, such as "earnest money" or deal-specific phrases like "wildfire risk"
Powerful search capabilities ensure that you can easily find the information you're looking for, even, for example, by entering fragments of information that you remember from deal documentation.
After entering a query, the search bar will display a "quick results" dropdown showing the first several results matching your search terms. This dropdown will highlight which attribute matches your search query, helping you pinpoint the exact information you're searching for faster. You can also click to view the full results page, which includes contextual details about the deal, contact, task or file. You can even choose to filter for specific types of results, like deals or contacts.
Powerful Search Tools to Find Powerful Data and Information
Dealpath's robust search functionality will empower deal teams of all sizes to more nimbly manage their pipelines, building even greater operational efficiencies. As you complete tasks, receive updates or need to research historical information, you can now find deals, tasks, files and contacts in seconds.
Seamless access to these records ensures that deal teams of all sizes can manage their workflows with greater speed and precision, creating an even more scalable process.
Learn More About Power Search
If your firm is already managing its deal pipeline in Dealpath, reach out to your Customer Success Manager to learn more about these recent enhancements.
To learn more about Power Search and why leading institutional investors select Dealpath as their deal management platform of choice, request a demo.