When your firm receives information about an opportunity without a readily available address, adding it to your pipeline might require guesswork. Did you know that you can simply drop a pin to locate a new deal or property's coordinates in Dealpath–even when raw land lacks a registered address?
In this blog post, we'll review how to accurately pinpoint a new deal or property location by dropping a pin in Dealpath.
Defining the Location of a Deal or Property in Dealpath
Defining a deal or property's location is a vital step in building your Dealpath pipeline. Without the correct location, it can be challenging to properly memorialize deals, capture active pipeline opportunities in the map view, or view demographic data for the area.
When an opportunity does not include the property's address, or the property does not have an address, dropping a pin is the fastest, easiest and most accurate way to locate the property's latitude and longitude coordinates.
How It Works: Drop a Pin to Locate Deals and Properties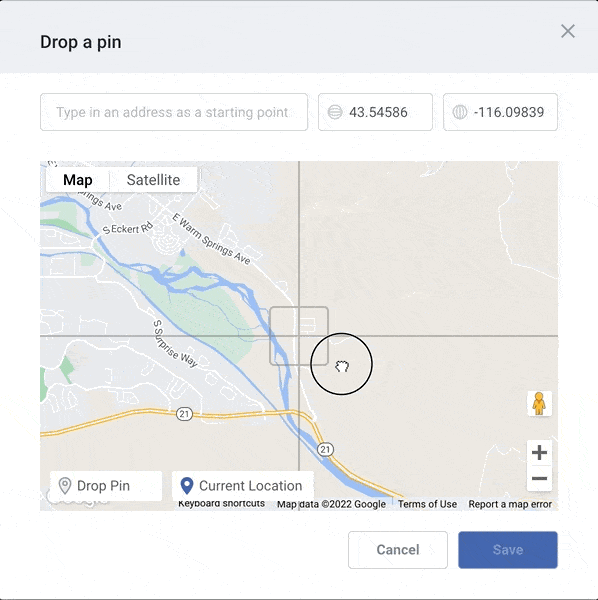 Specifying a deal or property's location in Dealpath is as simple as dropping a pin in Google Maps or Apple Maps. Here's how it works:
When adding a new deal, select "Deal Coordinates" instead of "Deal Address"
Click "find on map" and locate the property
Click "drop a pin" to save the location's longitude and latitude coordinates
The deal or property's location coordinates will populate in the deal creation view
Then, simply finish entering the remaining information to see the deal live in your pipeline.
Why It Matters: Pinpoint Land Parcels With Ease
Tracking all potential property locations is a critical aspect of sourcing and evaluating new development deals, but it's not always easy. Raw land parcels rarely have real addresses, as they have not yet been registered with the local municipality. Adding an address from the surrounding area can be tempting, but could add complications further along in the deal's lifecycle.
Dropping a pin in Dealpath simplifies this process. Rather than approximating, you can drop a pin to identify the precise location of the property or parcel you're evaluating. This is an easier, faster and more accurate way to locate raw or vacant land parcels as you evaluate deals.
Additionally, this vital step prepares your firm to analyze individual deals and your pipeline more thoughtfully and strategically:
Preserve the deal's precise location for historical context
Accurately capture market exposure for the given region in the map view
Review deals alongside relevant demographic data from Esri
Learn More About Dropping a Pin in Dealpath
If your firm already manages its pipeline on Dealpath, reach out to your customer success manager to learn more about this feature.
To learn more about how real estate institutional investors grow top-line revenue by managing their pipelines from one command center, schedule a demo.