Siloed data and information often complicates the debt origination process, leaving teams to navigate challenging workflows fraught with friction and, ultimately, delaying closings. As the real estate industry undergoes a digital transformation with proptech, though, new deal management software has empowered firms to accelerate deal turnaround times and gain a competitive advantage.
Rising capital costs and headwinds across equity markets have driven investors to pivot into new debt markets. As banks pull back, commercial real estate lenders have a unique opportunity to both grow their market share and solidify their digital edge by building tech-enabled efficiencies to win in an increasingly competitive market.
Failing to audit the efficiencies of your process could lead your firm to forfeit significant opportunities, particularly on competitive deals when every minute matters. Read on to learn why debt origination teams are evaluating their processes to close more deals with a data-driven edge.
Managing Your Pipeline in One Command Center: Speed, Precision, Scale and Risk Mitigation
Processing dozens or hundreds of applications at any given time to surface profitable opportunities, CRE debt origination teams can't afford to rely on siloed, potentially inaccurate information.
Acting as a command center, deal management platforms unite live pipeline tracking, real-time data analytics, transaction workflows and deal collateral in one hub, ensuring teams can collaborate in lockstep. Project management tools, spreadsheets and other point solutions have solved some of these problems, but generally leave teams scrambling to reconcile details like underwriting models, manager approvals and more. As all eyes turn to risk mitigation in a volatile market, relying on automation within a digitized pipeline ensures accountability.
The advent of deal management software has given CRE debt origination teams a way to manage deals and make real-time decisions based on easily accessible and vetted data.
According to a 2022 survey, 48% of CFOs in the CRE industry expected to increase technology budgets the following year, meaning now is the right time to accelerate deal flow with a purpose-built solution.
Make Data Your Competitive Advantage With a Proprietary Database
As you receive new loan applications, how are you memorializing this intelligence to strengthen your competitive advantage?
Deal management platforms enable CRE debt origination teams to capture valuable data for every deal, making all your evaluations and negotiations seamlessly data-driven.
Real-time data analytics enables your firm to slice and dice data as you screen, underwrite and evaluate new deals. For example, consider the amount of time you could save on a new multifamily deal in Sacramento by instantly surfacing comparables from similar past deals in the same area. Tapping into data at your fingertips enables your team to scale evaluation efforts, while eliminating the threat of dirty data from spreadsheets.
When it comes time to measure asset performance against projected returns, portfolio management teams can easily view and record insights.
As you evaluate more deals, you can grow your proprietary deal database to systematize screening, underwriting and evaluations. In a competitive environment, backing every decision with data–and proving these opportunities to the loan committee–must become a top priority.
Real-Time Pipeline Visibility
How can you decipher which deals in your pipeline are likely to close in the coming weeks? Or, which deals should be the top priority based on debt yield? Can another team member easily step in when the associate managing the deal is unexpectedly out for a week?
Tracking your pipeline from sourcing to close in one centralized dashboard, deal management platforms offer real-time visibility and create transparency across your team. From analysts to the Managing Director, all team members can view deals in precisely the level of detail required by their roles. In seconds, anyone can gain a clear understanding of the big picture when it comes to your pipeline, or dial into detailed updates.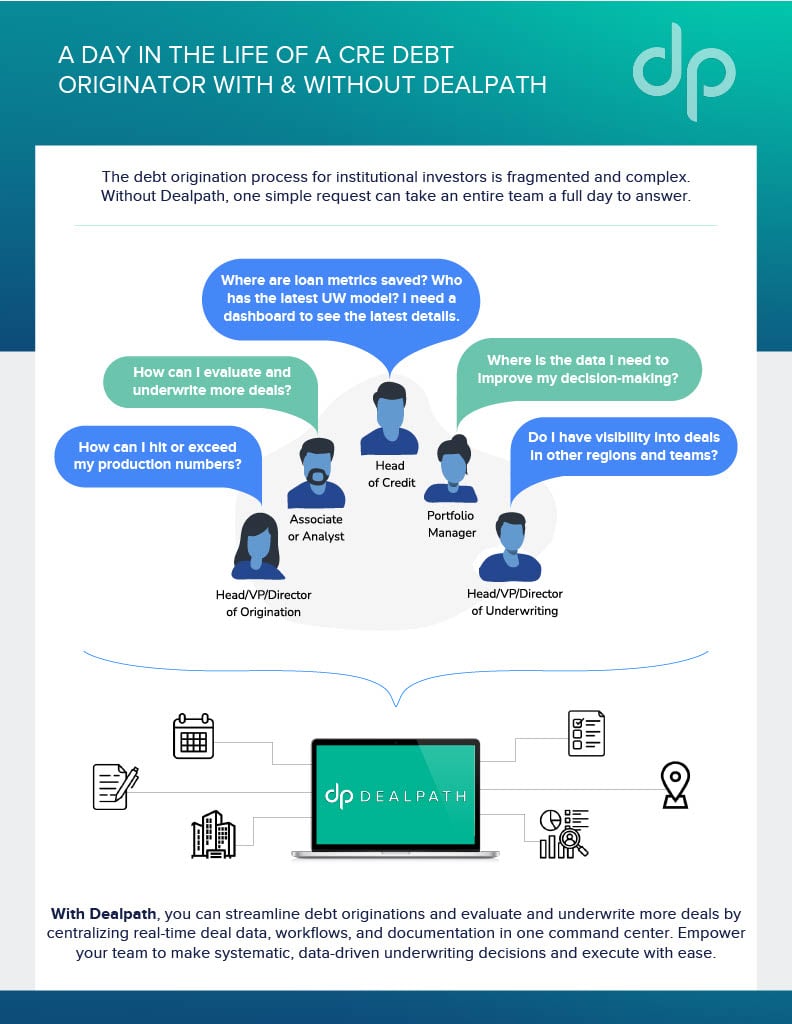 As you find new opportunities, real-time visibility into your pipeline will help you separate profitable deals from lackluster ones.
Build Operational Efficiencies and Collaborate With Ease
If your debt origination team is still managing its workflows with post-its and prayers, there's a better way. Beyond data-driven precision and real-time visibility, centralizing your pipeline in a deal management platform also empowers your team to achieve operational efficiencies, streamlining collaboration while reducing friction.
Standardizing workflows from source to close ensures that your team can quickly yet diligently satisfy each unique requirement based on your process. By automating assignments and hand-offs, your team can spend more time focusing on details, execution and strategy, limiting time spent on burdensome administrative work. Automated loan closing approval workflows record vital sign-offs from stakeholders like the Director of Origination or VP of Underwriting, maintaining records for posterity.
Digitizing workflows enables even lean deal teams to create accountability and surface potential risks. Automated reminders and notifications also keep team members working against tight timelines, reducing the risk of details slipping through the cracks.
As deals progress through your pipeline, maintaining a record of all related documents and commentary also builds tremendous efficiencies for team collaboration. Rather than sift through emails to find "that underwriting model", teams can instead surface the latest model, or relevant comparables, in seconds.
Building operational efficiencies across your debt origination workflows is vital as your firm aims to evaluate–and close–deals faster.
Weather the Storm and Win in a Volatile Market Environment
Despite ongoing market challenges, some firms have adopted nimble, data-driven strategies to deploy capital. Watch our on-demand webinar to learn how your firm can find pockets of opportunity and pivot to new verticals.