This blog post was last updated on Wednesday, February 8th.
It's no surprise that real estate, as the world's largest asset class, offers ample opportunity for institutional investors and individuals willing to pursue it. Even as new trends emerge, like the shift to remote and hybrid working, real estate maintains its importance as a fixture in society. According to Future Market Insights, the U.S. proptech market was valued at $18.2B in 2022, and is projected to reach $86.5B by 2032. Statista also reports that executives plan to increase tech budgets by 11%. Proptech, or property technology, will continue to drive the $18 trillion real estate industry's rapid growth by unlocking new efficiencies for professionals across all verticals.
All capital markets professionals rely on technology to accomplish things in a faster, more accurate and seamless manner. While real estate, and particularly commercial real estate have historically lagged behind adjacent markets when it comes to technology, proptech has propelled the industry forward. Read on to learn more about what proptech is, and how commercial real estate technology continues to shape both the industry and the built world.
Jump to:
What Is Proptech? (Definition)
Proptech, or property technology, encompasses all residential and commercial real estate software. Various proptech tools and real estate technology platforms build efficiencies in different phases of the asset lifecycle, from deal management, to portfolio management and beyond.
Simply put, proptech connects people, technology and information to simplify how we own, sell, manage, operate, research, rent, market, buy and invest in residential real estate and commercial properties. From commercial real estate investors to developers, general contractors, building operations managers, brokers, and even legal teams, proptech solutions simplify daily operations and empower holistic decision-making.
In many ways, proptech is similar to its more realized financial services counterpart, fintech. Short for financial technology, fintech has played a significant role in modernizing finance-related industries like banking, payment processing and lending. In the same vein, disruptive proptech trends have uprooted traditional workflows, which were largely based in Excel, to create more efficiencies through cloud-based tools. It overlaps with construction technology, or contech, which relates more to the building process itself.
Proptech has already changed how the real estate world transacts, and will only continue to develop a stronger foothold as firms adopt these digital tools and new technologies emerge.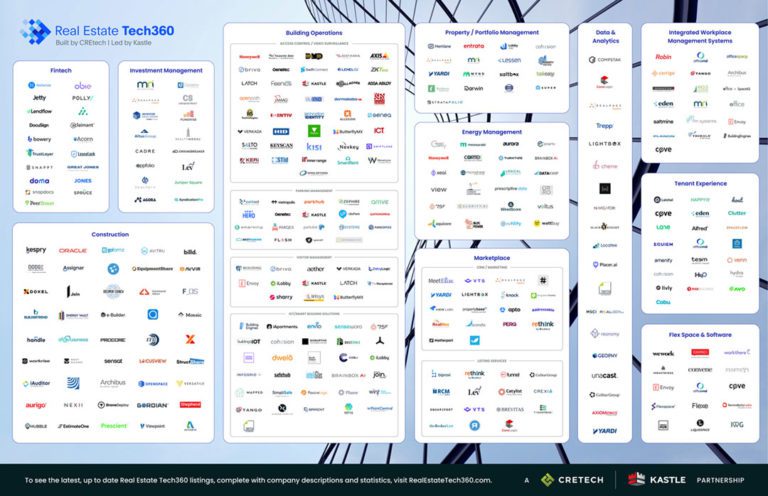 The Proptech Landscape: Business- And Customer-Facing Solutions
Commercial real estate technology is available in both business-to-business (B2B) and business-to-consumer (B2C) forms. VTS, a virtual tenant leasing and asset management platform, is another popular proptech platform that helps landlords and brokers market and lease to tenants with more connectivity and in less time, while also solving a range of other problems. Dealpath, the leading commercial real estate deal management software, is used by institutional investment management teams to streamline workflows, collaborate across teams and simplify reporting.
B2C proptech software helps both businesses, landlords and others to earn additional revenue and conduct more through research. Redfin and Zillow both connect home buyers and sellers or agents, expediting a previously lengthy and disconnected process. Airbnb gives owners another way to monetize their homes, and travelers a convenient, comfortable and fun way to find accommodations.
Proptech software will never eliminate or invalidate the deep industry knowledge required to thrive in the real estate industry. But by purposefully connecting the right dots, commercial real estate technology makes information more accessible and empowers professionals to systematically make data-driven decisions in a faster, more efficient way, driving revenue as a result.
Breaking Down the Property Technology Market By Vertical
Beyond the distinction between customer and business-facing tools, we can also analyze the proptech market based on the solution provider's audience.
For example, contech, or construction technology encompasses technologies designed to assist general contractors and guide developers and operators toward sustainable, scalable practices. In a similar vein, smart home technology helps owners, operators and tenants monitor, regulate and control appliances, energy usage, and more through the internet of things (IoT). Real estate investment software enables investors to deploy capital strategically and efficiently, a category adjacent to fintech, which involves financial services.
Finally, platforms like AirBnB, WeWork and Clutter have emerged as popular shared economy services in the real estate world.
Together, all of these technologies have simplified operations for businesses and consumers alike.
Commercial Real Estate's Top Proptech Companies
Following closely behind the earlier and, perhaps more prolific rise of residential real estate tech, commercial real estate proptech has already made a lasting impact on firms' workflows and bottom lines. Centralizing data, information and people in one platform yields tremendous economies of scale. While new technology solutions are always emerging, these are some of the leading CRE tech solutions:
The Real Estate Proptech Software Industry is Booming
As decision makers realize the impact of connectivity, seamless collaboration, and centralized data, proptech news continues to surge in popularity as the market size grows. Between 2013 and 2019, there were over 100 mergers and acquisitions in the proptech space. Proptech deals exceeded $7 billion between 2013 and 2020. Finally, Future Market Insights projected that the proptech market will be valued at $86.5 billion by 2032. Property technology companies continue to set the scene for a digitally connected future with seamless transactions by developing game-changing technologies.
The largest institutional investors are at the forefront of the proptech adoption wave, accelerating growth for players that have garnered signification market share driven by economies of scale. Principal Real Estate, a top 10 global real estate manager, relies on commercial real estate technology like Dealpath to increase deal volume and velocity. Tracking, managing and processing its pipeline in Dealpath allowed the NASDAQ-listed form to streamline dal flow. Consequently, Principal Real Estate evaluated a $250B pipeline in 2021, propelling its business into new sectors like data centers, self-storage and more.
In many ways, proptech has also accelerated growth for lean powerhouse investment management teams of 15. Niche teams have utilized proptech to build a competitive advantage by scaling faster than legacy methods like Excel for data management and email for deal communications allowed. Because commercial real estate technology allows them to collaborate and make decisions more efficiently, they can review more deals with ease. Time and again, firms have realized that data speaks volumes about past performance and future opportunities–part of proptech's mission is to centralize that data for clear, efficient and actionable takeaways.
Proptech's Reaction to Market Uncertainty: The Opportunity For Category Leaders
Even as commercial real estate firms increasingly rely on proptech to drive growth and digital transformations, recent fluctuations in the markets have presented new challenges.
Economic uncertainty looms across numerous markets, and private markets have followed the lead of public markets. This uncertainty–and the resulting decrease in transactional activity–have caused valuations to compress from 2021 peaks. In select cases, this has led to layoffs. Not all solution providers, though, are equipped to navigate this new environment.
Category leaders historically have an opportunity to thrive in tight market conditions by delivering revenue-driving innovation. Industry leaders seek the certainty of partnering with trusted companies, putting leading solution providers in a strong position to continue growing exponentially–even amidst the backdrop of a potential recession. Dealpath, real estate's most trusted deal management platform, recently closed a $43 million series C funding round led by Morgan Stanley Expansion Capital.
Building a Digital Deal Advantage to Outperform Competitors as Opportunity Emerges
While deal flow has slowed in today's high interest-rate environment, many firms have capitalized on this moment in time to systematize data-driven investment decisions—positioning them to win as new opportunities emerge.
Refining, centralizing and automating investment processes now can create a digital deal advantage. As market tides change, firms that have adopted industry-leading proptech are poised to surface the most profitable opportunities faster, supercharge deal velocity and execute quickly and flawlessly.
Understanding Proptech Software's Impact on the World & Market of the Pandemic
Before moving to proptech software, many large CRE investment management firms relied on a combination of industry-agnostic tools and proprietary technology solutions. This approach helped them accomplish efficiency-related goals, but ultimately primed the market for commercial real estate technology solutions with more holistic benefits.
Now, proptech presents new opportunities to centralize and gain insight into real-time data, which was previously delayed or disconnected. For example, as the pandemic progressed, it became clear that retail's role in society had changed. In fact, Jeff Kaplan of GCP noted during a NAIOP panel discussion that their data illustrated the growing importance of eCommerce warehouse distribution centers, long before Amazon's earnings exposed its massive growth. While multifamily will always be a viable investment as a basic necessity for urban living, real-time data also foretold its shift during the pandemic's urban exodus.
How Do Real Estate Professionals Use Proptech Software?
Proptech software can fulfill a variety of different needs for professionals in various roles and organizations. For example, building operator can find ways to monitor lighting or occupancy. Conversely, investment managers can gain real-time visibility into their deal pipelines.
These are some of the ways that both businesses and individuals are using proptech:
Listing Services: Sourcing and managing new deals, from new home rehab projects to multi-million dollar commercial investments
Real Estate Marketplaces: Connecting buyers and sellers, landlords and tenants, and investment managers and investors via online marketplaces to expedite transactions, including virtual property touring software
Building Operations: Optimizing operations by saving time and money through new efficiencies and streamlined processes
Tenant Experience: Delivering a stronger tenant experience with digitally connected homes and buildings and smart building technology
Deal Management: Aligning companies by providing visibility into upcoming deals, tasks, data, communications and much more, especially on the institutional side
Data Aggregation: Accessing third-party market data to set a baseline for future decisions
Real Estate Data Analytics: Gleaning insights from and centralizing data-driven analytics, including simplified reporting
Property Management: Responding to and tracking maintenance requests in a more organized and timely manner
More generally, proptech serves to:
Reduce manual data entry and digitize processes
Empower all professionals to act with greater precision and predictability
Bolster security in the cloud (for platforms with SOC 2 Type 2 certification)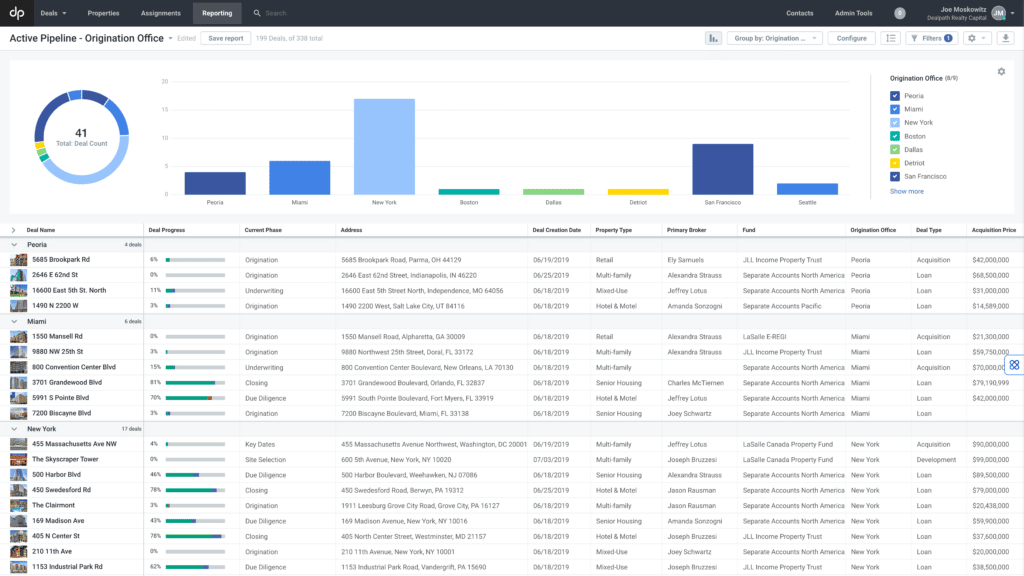 As the industry continues to evolve, proptech companies will rise to the challenge of providing intuitive solutions for new needs–while balancing powerful functionality with enterprise data security.
Collaborating in the Cloud: The Power of Transparency in Proptech Software
When organizations worked from spreadsheets and other disconnected tools, it took a team member keying in updated information to share updates. In the modern fast-paced workplace, the ability to access up-to-date information instantly is not a luxury–it's a necessity.
Among many other advantages, commercial real estate technology is largely cloud-based, which means that data updates in real time. Instead of painstakingly updating information through manual means, teams can work from real-time information with up-to-the-minute accuracy. From analysts to VPs to Managing Directors, knowing where a deal stands at any minute is imperative.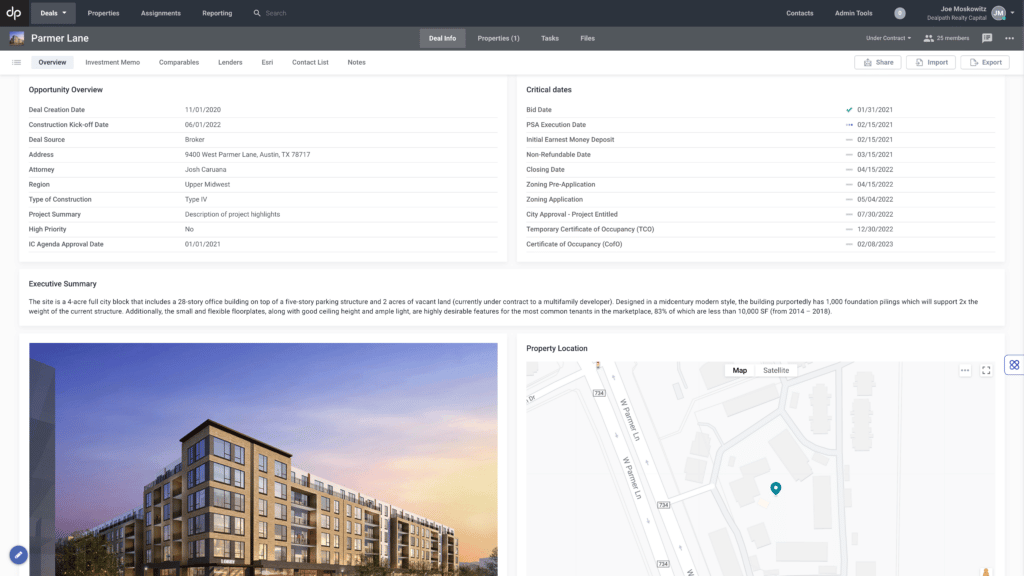 It's easy to take this for granted in today's world, but this information transparency has far-reaching operational benefits. Instead of emailing around for up-to-date information, stakeholders can act on the information that's available. Senior leadership can make more accurate projections, and project managers can streamline their communications.
Unhinging Data's Power With Analytics
Among the many other benefits outlined above, commercial real estate technology has opened new doors to how firms can leverage their data in a scalable manner. Reports and data-driven insights are powerful ways to inform business strategy, but historically, they were time consuming and unreliable. Commercial real estate technology is helping decision makers systematize multi-million dollar investment decisions and find answers faster with powerful data analytics.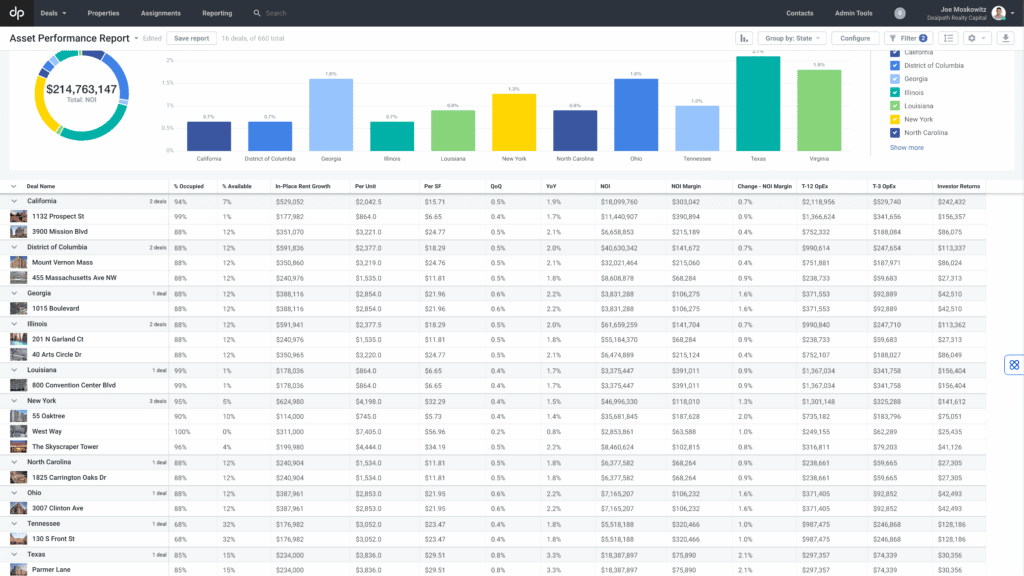 While not all tools offer this capability, the right proptech software will programmatically cultivate analytics based on dynamically sourced data. Every deal you review—even those misaligned to your investment strategy—act as vital benchmarks, compounding your competitive intelligence. Unlike unstandardized spreadsheets, which must be mined for answers, analytics tools offer effortless insights.
Data is charting the future across many business verticals, and as commercial real estate technology advances, it will secure its place as a "must-have" for competitive investors.
Understanding Deal Management's Role in Your Tech Stack
Among other proptech categories, deal management has quickly risen to the top as a necessity for investment management firms as a command center that centralizes their data, empowering them to invest more strategically and simplify their workflows. Download our free white paper to learn how you can strengthen your competitive advantage with a fully integrated, results-driven tech stack.