According to CBRE, year-over-year global investment volume fell by 60% in Q4, including a decline in investment across all property types. Even multifamily, which had the highest investment volume of any sector in 2022, declined by 70%. Data is no longer supporting evidence for real estate investment decisions; it's the driving force behind them. In a volatile market environment, industry leaders of all sizes are finding new ways to systematize data-driven investment decisions with deal management software.
In an effort to deploy capital despite headwinds, many firms have found new opportunities in emerging niche sectors. For example, CBRE's recent survey highlighted that investors' preferred alternatives were self-storage and data centers, as pessimism around core markets, like office, persists. Read on to learn how your firm can take a data-driven approach to penetrating new verticals–even without existing institutional knowledge.
The Case for Exploring Opportunities in New, Emerging Asset Classes
Evolving market conditions have forced institutional investors to re-evaluate their investment strategies and, in some cases, put their pencils down. As deal flow has slowed in core markets, though, new opportunities have emerged.
Rather than wait for smoother waters, some firms have continued to create investment optionality and meet capital deployment goals by pivoting into new asset classes. Evaluating deals in a new vertical is one way to continue deploying capital and grow a competitive portfolio, while maintaining a strategy aligned to your firm's risk profile.
1. Outline the Ideal State of Competitive Analytics & Intelligence Based on Your Strategy
Even if this is your firm's first foray into a new vertical, you've developed the internal discipline required to strategically evaluate, vet and execute new deals. When planning to penetrate a new vertical, start by considering which real-time data points might be insightful during evaluations. Are there new data points, such as cooling methods for data centers, or total number of units for self-storage, which might yield more comprehensive analyses?
The meteoric rise of real estate data analytics has presented new opportunities for real estate firms to strategically capture and leverage significantly greater volumes of competitive intelligence. With more visibility into potential opportunities, you can take a more data-driven approach to evaluating deals in new verticals.
2. Centralize Data in One Source of Truth
After developing a data analytics roadmap, the next step is making that data actionable. To act quickly and confidently on new opportunities, nimble deal teams can't rely on data stored in disparate spreadsheets. Instead, your firm can build greater efficiencies and invest with precision by centralizing that data in one source of truth, like a deal management platform.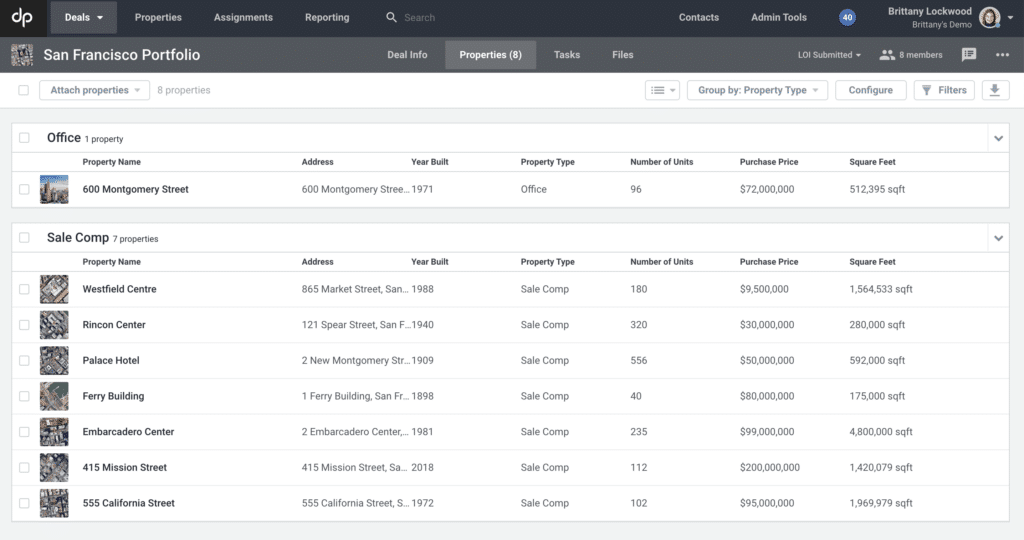 Dealpath, for example, creates an ever-growing proprietary deals database containing every OM and comp a firm has ever reviewed. Centralizing this competitive intelligence empowers deal teams to more readily compare apples to apples and find the answers they need as they screen, evaluate and pitch deals.
Beyond pipeline evaluations, centralizing deals in a deal management platform also allows firms to derive stronger insights from dead deals. Assigning a "dead reason" to every deal offers greater visibility into your pipeline's performance by deal type, including insights about which brokers source the highest-potential deals. If you have a diligent process for capturing the final transacted price of a deal you passed on, your dead deals quickly become valuable comps.
3. Add Third-Party Data to Fuel your Competitive Intelligence
All too often, third-party data can fall by the wayside as formatting challenges complicate real-time analyses. However, purchasing and adding third-party data about new verticals to your deal management platform can be another quick route to quickly developing competitive intelligence.
Instead of relying exclusively on third-party data, which creates the risk of acting on outdated information, utilize it to supplement the first-party data and your own underwriting findings. In doing so, you can develop stronger benchmarks with data you know you can trust.
4. Automate Reporting to Keep a Real-Time Pulse on Your Pipeline
As you source new opportunities, maintaining a real-time pulse on your pipeline is key to uncovering the most profitable deals. Automating reporting in deal management software keeps everyone on your deal team apprised of pipeline activity on a minute-to-minute basis. It also frees up the time your team would normally spend compiling detailed pipeline reports, allowing them to focus on higher-value activities like new vertical research.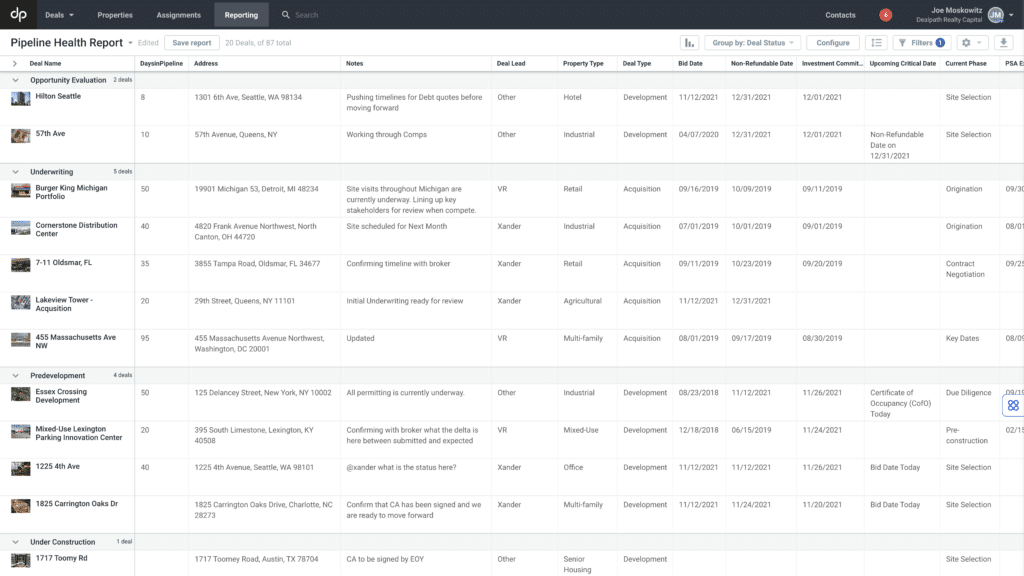 Automated reporting allows your team to make real-time investment decisions, share vital information and remain aligned on priorities, despite a lack of historical market knowledge.
5. Grow your Pipeline by Seamlessly Ingesting More Deals
Exponential pipeline growth empowers your firm to strengthen investment optionality, particularly as you build efficiencies in evaluating new deals. However, scaling your pipeline should not put the onus of additional data entry on your deal team. Instead, find a trusted, vetted and proven deal management partner that offers data ingestion services.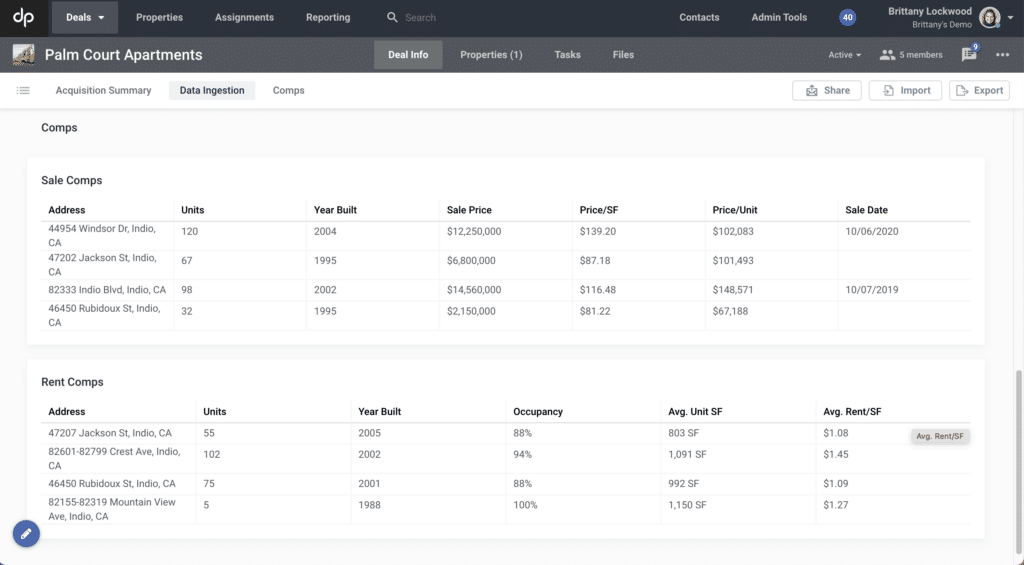 Eliminating manual data entry from your deal team's workflow empowers them to evaluate more deals, while also reducing the risk of human error. Consequently, your firm can begin evaluating new deals immediately, rather than waiting for highly paid analysts to complete this admin work.
Leading With Data: 3 Reporting Tips to Fuel Your Digital Deal Advantage
In a fast-paced, increasingly data-driven real estate market, investors with the conviction to act sooner and close faster are positioned to win. Watch our on-demand webinar to learn how your firm can outperform the competition by centralizing institutional knowledge in one place, evaluating and closing more deals.