This blog post was last updated on Thursday, August 4th.
In a market where speed and scale mean everything, your firm's deal team needs to be able to react to new opportunities quickly, thoughtfully and strategically. Unfortunately, old-school communication methods like spreadsheets, emails, physical documents and phone calls rarely convey the information investors need to make fast, data-driven investment decisions. As the industry undergoes a belated-yet-gradual digital transformation with proptech, real estate deal management software has become the gold standard for tracking deals throughout the deal lifecycle to drive exponential portfolio growth.
According to a NAR report, 27% of metro areas are experiencing double-digit rent growth, underscoring the significant opportunity. Read on to learn more about real estate deal management software, and how this vital tool empowers speed and scale for institutional investors–regardless of size or investment strategy.
What Is Deal Management in Commercial Real Estate?
Real estate deal management software acts as a command center for institutional deal teams to collaboratively source, manage, execute and report on pipeline deals, all from one platform.
Without a stronger solution, many firms have previously cobbled together Excel checklists, file storage platforms, and generic project management tools to manage acquisitions, development and financing deals. However, highly paid analysts and team members should not devote valuable time and resources to data entry and administrative work. As your firm grows, real estate investment software like a deal management solution offers a scalable method to systematize data-driven investment decisions by acting on real-time, vetted deal data. Aligned around one source of truth, firms can manage all their workflows in one place, screening and closing deals more efficiently.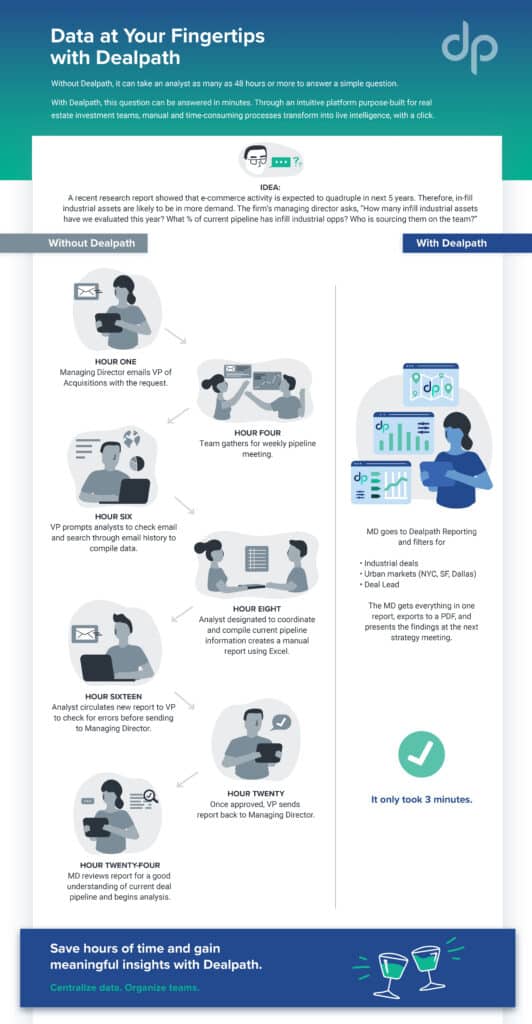 By adopting Dealpath, the first and leading real estate deal management software, our clients have seen impressive results. Dermody Properties built even greater operational efficiencies in streamlining deal flow, leading to 400% AUM growth over three years. To learn more about growth-oriented deal management, check out Dealpath's DACS framework.
1. Improve Operational Efficiency & Collaboration With Real Estate Deal Management Software
Ticking dozens or hundreds of boxes as deals progress throughout the lifecycle is burdensome, detail-oriented work, but building operational efficiencies with real estate deal management software streamlines this process in a number of important ways.
Centralized Document Management & Communication
Scattered information that can only be accessed by owners or requested via email can prolong crucial steps in the process. Real estate deal management software centralizes all deal data, information and documents in one command center. As deals progress, deal teams can leave comments to add context, which can prove valuable months or years later. Consequently, anyone in the organization can easily access the latest information with ease.
Configurable, Collaborative & Automated Workflows
Why recreate a new checklist as you begin screening each new opportunity when you can begin analytical work right away? Real estate deal management software increases deal velocity and streamlines the deal lifecycle by automating repeatable tasks, ensuring deals reach the right stakeholders at the right time, while also simplifying approvals. Firms that manage their pipelines in Dealpath can configure workflows based on their unique processes and auto-assign tasks based on roles, ensuring deals undergo the time-tested process that has driven your success.
Real estate deal management software also enables firms to collaborate more efficiently, even with external collaborators. Dealpath allows legal teams, environmental consultants and other third parties to access select deals that might require an updated file, eliminating confusing email communication.
Work More Efficiently on Time-Consuming, Detail-Oriented Tasks
Beyond deal tracking and execution, leading real estate deal management software also streamlines monotonous tasks that might otherwise consume valuable bandwidth, leaving more time to review additional deals. From generating letters of intent, to automated reporting, teams can accomplish tasks that might otherwise be time-consuming with ease. Spending less time on administrative tasks ultimately primes deal teams to prioritize valuable deals by working more efficiently.
2. Enhance Real-Time Pipeline Visibility 
To unlock maximum portfolio value, your firm must keep a tight pulse on market opportunities and pipeline activity. Real estate deal management software ensures that you can uncover the most profitable opportunities by relying on intuitive data analytics and automated reporting.
Manage Tasks and Critical Dates for Every Real Estate Deal in Your Pipeline
For enterprise deal teams, staying abreast of every critical date–both to maintain deal velocity and close deals before competitors–is paramount. Managing tasks in real estate deal management software creates visibility into who holds the ball at all times, preventing costly mistakes and setbacks. Critical date reports can illustrate upcoming deadlines on the horizon, while staffing workload reports detail which team members might have additional bandwidth.
Fast, Precise and Systemized Data-Driven Deal Analysis
When a new opportunity arises, analysts shouldn't have to scramble through internal folders and communication channels to pinpoint historical comps. Real estate deal management software puts data at your fingertips in the form of data analytics. Rather than sifting through drivers to locate comps and compare cap rates, analysts can find comparable deals by simply filtering to the right criteria. Standardized data streams ensure that each deal adds valuable intelligence in your proprietary analytics, making data your competitive advantage.
Simplified, Vetted & Automated Real Estate Deal Management Reporting
Automated, configurable reporting ensures that all stakeholders in your organization are apprised of pipeline activity, all without distracting analysts from high-priority deal execution. Bespoke reporting allows deal teams to see where their pipelines stand on a week-to-week, day-to-day or even hour-to-hour basis. You should also be able to filter deal management software for a more granular view of a certain subset of deals.
Relevant, timely reports make reporting a powerful strategy driver you can act on with confidence in its accuracy.
3. Grow Your Portfolio of Assets Under Management & Top-Line Revenue
Operating at maximum efficiency, your firm can grow your portfolio and top-line revenue–laying the groundwork for ongoing scale.
Standardize Deal Flow and Increase Deal Volume
Streamlined processes and operational efficiencies afford firms the opportunity to scale their pipelines, without the growing pains that typically follow. Because the screening, execution and due diligence processes can be completed faster, your firm can allocate the time saved to evaluating an even larger pipeline. Strengthening investment optionality with more opportunities means that your firm can close more deals, driving portfolio and revenue growth.
Systematize Data-Driven Decision Making
Deal closings are frequently prolonged as senior leadership and the investment committee make data requests. Rather than circling back to decisions on lucrative deals days or weeks later, real estate deal management software affords deal teams the opportunity to find and present all of the market intelligence needed to move deals forward, including more easily digestible visualizations. In doing so, your firm can deploy capital efficiently on the deals that present the largest opportunity.
Invest With The Best Real Estate Deal Management Software
The top real estate institutional investors select Dealpath as their deal management software of choice. To learn more about why leading enterprise deal teams manage their deals in Dealpath, check out our infographic.