For real estate deal teams seeking to compete in a cutthroat $18 trillion market, collaborating in lockstep from source to close is vital. While simple in theory, alignment can be difficult to achieve when teams are managing their pipelines with spreadsheets, emails and post-it reminders. Even slight confusion on details like closing dates or underwriting models can cost an entire team hours of time on drawn-out meetings–which, ultimately, may not end in actionable outcomes.
Dealpath, real estate's most trusted deal management platform, offers firmwide, real-time visibility into the latest pipeline updates. Consequently, deal teams can simplify discussions by recording and clearly visualizing relevant details. Read on to learn how deal teams can expedite or eliminate pipeline, critical date and due diligence meetings on Dealpath.
Single Source of Truth: Giving Deal Teams the Visibility They Need
As your firm ingests, manages and executes on deals in its Dealpath pipeline, all corresponding data, documents, comments, task notes and other details are logged for posterity. Clear, real-time visibility into the latest updates allows anyone in your firm to view updates–or even receive notifications about noteworthy changes.
Managing your deal pipeline in one source of truth creates powerful efficiencies, affording your team the opportunity to hold productive and actionable conversations based on real-time data and information, instead of "circling back". Centralizing this information could save your team hours of time spent on admin work and meetings on a weekly basis.
1. Run Your Pipeline Meetings on Dealpath
It's not easy to hold a pipeline meeting when your deal team scrambles to update a team-wide spreadsheet, only to leave on a note of uncertainty. Dealpath's pipeline reporting enables firms to hold focused, productive conversations based on real-time, centralized information.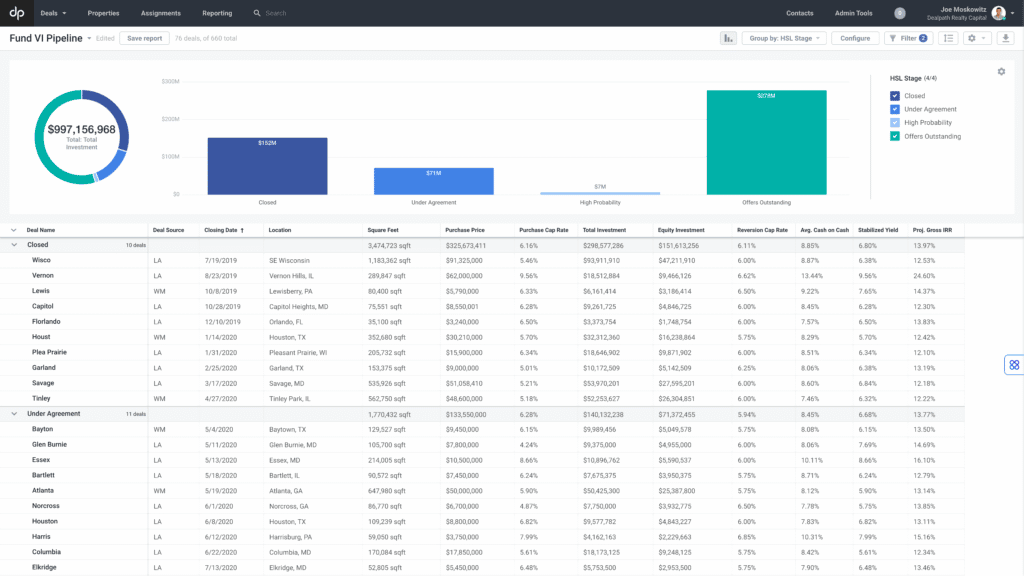 As team members update deals in Dealpath, relevant information is captured in real-time reports. During pipeline meetings, your team can simply present that report and discuss updates, like financials, deal execution and critical dates.
Deal teams can even zoom into specific markets, deals of a certain size or stage to better visualize this information. Consequently, management and senior leadership can more confidently project closing timelines, or even create agendas within Dealpath about talking points for Investment Committee meetings.
Running your pipeline meetings on Dealpath empowers your team to make faster, more confident decisions based on clearer, more accurate data, so you can follow up immediately and evaluate more deals.
2. Eliminate Due Diligence Tracking Meetings with Dealpath
Painstakingly reviewing every due diligence checklist item for late-stage deals is no longer a necessary evil. Tracking due diligence checklist items in Dealpath, deal teams can collaborate in lockstep, offering real-time visibility to both team members and senior management.
Dealpath's task management and workflows enable streamlined, flawless execution, from initially sourcing the deal through due diligence and closing. As deal team members collaborate to complete checklist items, managers and executives can view progress on transaction workflows in full detail. Configuring custom notifications in Dealpath even allows specific team members to receive notifications about relevant updates throughout execution.
Anyone who is curious about site inspections or contracts can simply pull up the deal in Dealpath, rather than finding "that" spreadsheet or waiting for the next DD meeting. All commentary, documents, and other details are visible in this single source of truth, which will remain intact long after the deal closes or employees leave. With all relevant information in one place, deal teams can remain on-track and accelerate closings.
3. Run Critical Date Tracking Meetings on Dealpath
Missed critical dates can be costly, whether your firm must pay fees, suffer the opportunity costs of a delayed deal, or–in a worst-case-scenario–lose to the competition. Managing your deals in Dealpath offers the opportunity to add critical dates to every deal, so your firm is always prioritizing the right deals.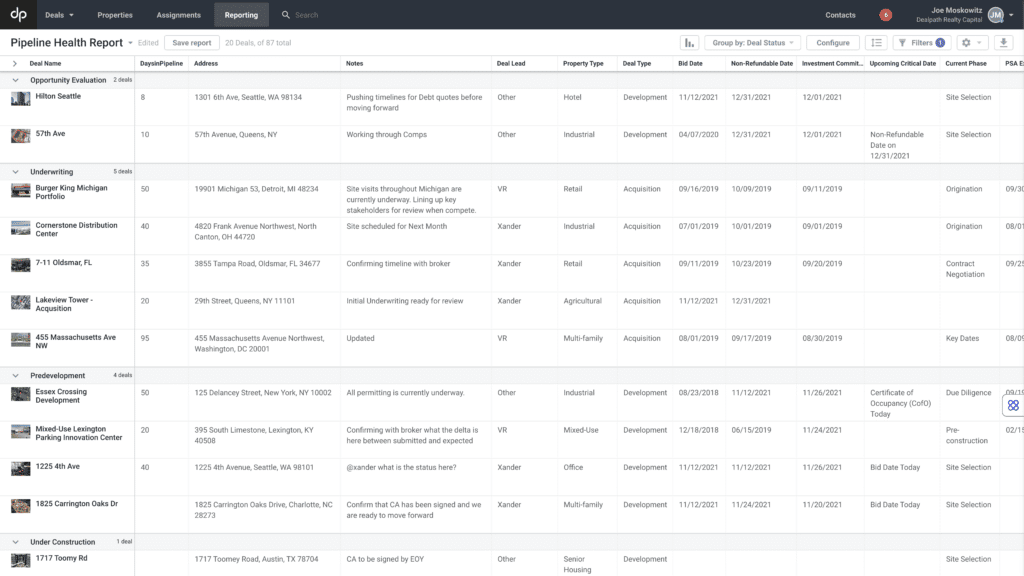 Pulling a report of all deals based on critical dates provides all the information your firm needs to quickly discuss these timelines. Depending on your firm's priorities, you can examine this from a 40,000 foot view, or dive into the weeds of discussing next steps on high-impact deals. If timelines have changed, deal team members can dynamically shift that date and all dependent dates in one click, preventing the need to manually account for delays. One way to ensure that all team members abide by this process is making dates a required field across your pipeline.
After reviewing critical dates, your firm can reassign work as needed to prioritize the most profitable opportunities.
Leading With Data: 3 Reporting Tips to Fuel Your Digital Deal Advantage
With all your pipeline data and information in one centralized source of truth, your firm can prioritize evaluating more deals and executing the most profitable ones. Watch the webinar to learn about the 6 reports your firm can review weekly to uncover the most profitable opportunities and grow exponentially.