This post was last updated on Wednesday, February 22nd.
To outperform competitors and exceed investor expectations, real estate investment managers need a data-driven strategy with seamless execution. As the market responds to a new landscape where speed is a must, competitive strategies powered by real estate investment software have become vital. From historical deal benchmarks to pipeline opportunities, deal teams and investment managers must maintain real-time visibility into investment performance.
Acting as the investment command center, deal management software plays a critical role in this open ecosystem of proptech, allowing firms to more easily source, screen, underwrite and execute on deals. At Dealpath, we've seen both growing firms and industry giants alike succeed by honing in on four key pillars: data, automation, collaboration and scale. In this guide, you'll learn how your firm can drive maximum performance from pipeline to portfolio management with real estate investment management software.
Jump to:
Driving Maximum Performance from Pipeline to Portfolio Management With Real Estate Investment Software
Institutional investors previously relied on information from emails, spreadsheets and phone calls for multi-million dollar investment decisions. Now, real estate investment software has unlocked the opportunity to act based on holistic, real-time data aligned to their strategies.
Unlock Your Competitive Data Advantage
Centralizing proprietary market intelligence in one command center strengthens data-driven precision at an unprecedented scale, ensuring every decision is grounded in data.
Gaining Real-Time Pipeline Visibility With Real Estate Investment Management Software
To nimbly track updates and prioritize the most profitable opportunities, your team must keep a real-time pulse on every deal–with clear visibility into upcoming milestones.
Align Around Real Estate Investment Software to Improve Operational Efficiency and Collaboration
Centralizing your deal pipeline in one platform reduces admin work like manual data entry, enabling firms to save valuable time spent on reporting and reallocate resources toward evaluating more deals. As development begins, project managers can begin their work and access real-time information, preventing the need for siloed records in real estate development software.
Data, Automation, Collaboration & Scale: DACS, The New Framework for Real Estate Investment Management Software
The days of adopting software to solve a simple problem are long past. Real estate investment management software should create the compounding value your firm needs to drive sustained growth by magnifying the most successful elements of your investment strategy. Investment managers can achieve the best results aligned to their goals by focusing on four key buckets: data, automation, collaboration, and scale, or DACS.
Firms that execute a tech-enabled investment strategy are better positioned to create maximum value throughout the investment deal lifecycle.
Data: Capturing Competitive Insights With Real Estate Investment Software
Uncover the most profitable opportunities with real-time data analytics
Comps and historical deal data are invaluable market intelligence, but scattered information previously made harnessing this power a challenge. Real estate investment software like Dealpath makes data your competitive advantage by allowing you to slice and dice data in seconds. Deal teams can easily look to proprietary data analytics for benchmarks when screening new deals, with competitive intelligence from every deal they've ever reviewed at their fingertips.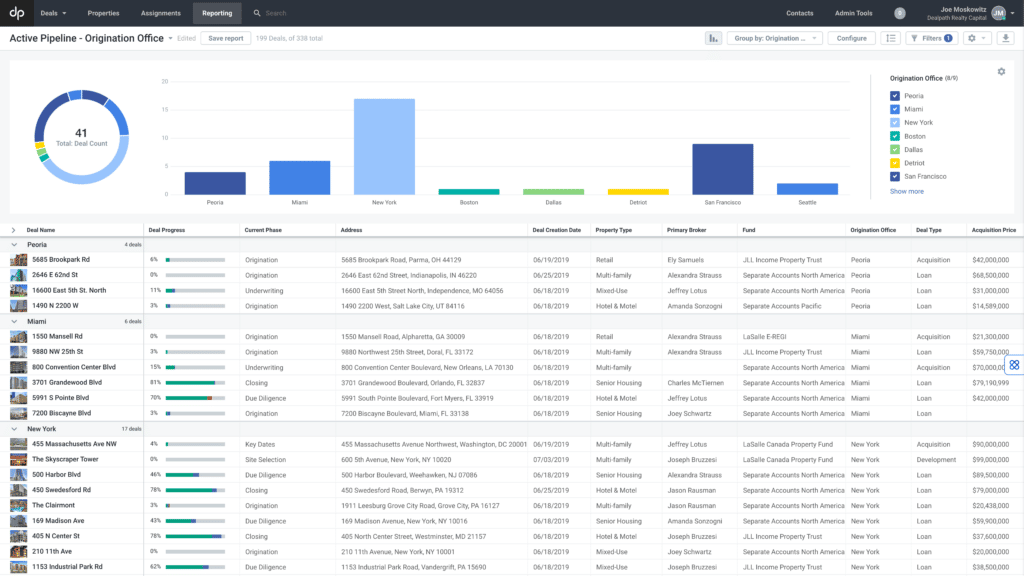 Consider which data points and other information would be helpful to review as new deals enter your pipeline. Are there data points that once seemed impossible to review, which may now be realistic options? By making faster decisions, deal teams unlock the opportunity to review an even larger pipeline.
Institutional-Grade Data Security
As cybersecurity concerns rise, ensuring sufficient data protection at every touchpoint is critical for protecting your competitive advantage. Before moving your deal pipeline to the cloud, consider how solution providers secure your valuable data. The enterprise gold standard is SOC 2 Type 2 Certification, which indicates that a third party has reviewed and approved the platform's secure, resilient and highly available cloud-native applications and data services.
Automation: Accelerate Real Estate Investment Deal Flow with Purpose-Built Software
Standardize Workflows and Streamline Execution
After capturing information and data for a new deal, the next challenge becomes reviewing that opportunity as part of a regimented, repeatable process. Real estate investment management software accelerates deal flow by presenting an opportunity to standardize goal-oriented workflows for seamless execution.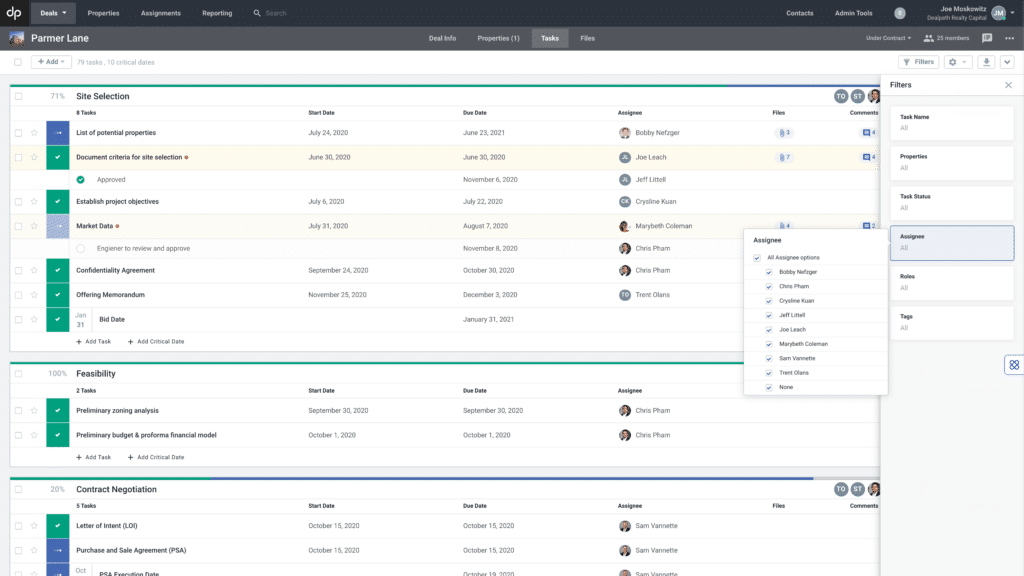 Rather than recreating every deal, deal teams can source deals, then evaluate them as part of a standardized process. As deals move through the funnel, purposeful automation ensures that the right deals reach the right stakeholders at the right times, reducing confusion and email friction.
Familiarity is one of the best strategies for change management. During solution evaluations, prioritize platforms that amplify your firm's proven criteria and process over those demanding change.
Track Your Pipeline With Real-Time Reporting and Dashboards
Report building is a mission-critical task for both daily decisions and big-picture strategy setting. Unfortunately, it can also be a time-consuming project that detracts from deal execution–ultimately leaving stakeholders doubting accuracy.
Centralizing investment data in a real estate investment deal management platform like Dealpath ensures that all reports include real-time, vetted data. Start by replacing manually created reports with scheduled reports to keep a minute-to-minute pulse on your pipeline. As new questions arise, deal teams can easily create new reports by slicing and dicing data in seconds–and potentially even eliminate meetings. Automating reports tailored to stakeholder questions for specific VPs, MDs or development leaders can seamlessly create even greater transparency.
Collaboration: Centralizing Your Pipeline & Competitive Intelligence
Centralize Pipeline Execution Efforts in One Source of Truth
Between initially sourcing a deal and monetizing the asset, numerous team members have a hand in managing the deal. Centralizing these pipeline collaboration efforts in one command center ensures that no documents, contextual commentary, or underwriting models slip through the cracks throughout the asset lifecycle. Real-time visibility within one source of truth offers the transparency needed for high-volume deal teams to collaborate effectively, unlike the silos imposed by traditional spreadsheets.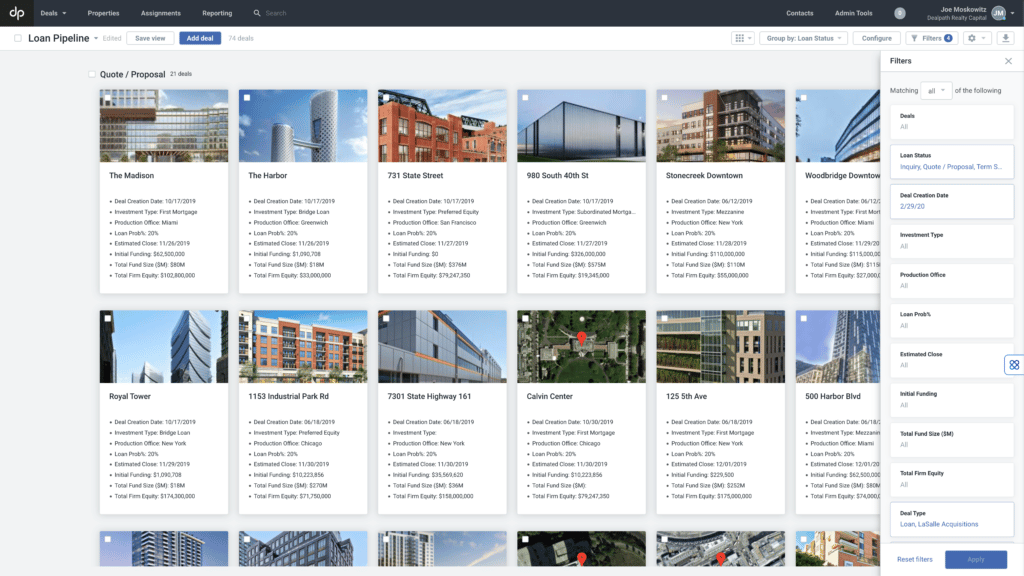 Goal-Oriented Implementation
Ultimately, your firm's real estate investment management software execution efforts will only be as strong as your solution provider partnership. To deliver on your firm's goals, you need a consultative partner invested in successful execution. Be sure to find a provider that takes a consultative approach based on clearly defined objectives and, ideally, has implemented similar solutions with positive results in the past.
Scale: Reviewing More Deals With Real Estate Investment Management Software
Evaluate a Higher Volume of Deals Without Adding Resources
As your firm builds operational efficiencies by systematizing and automating previously manual work, you can more easily scale your pipeline. Implementing structured, tech-enabled processes with real estate investment management software eliminates the additional burden that typically follows this growth. With information centralized in one place, your deal team can easily evaluate more deals to build greater investment optionality.
One tactic to eliminate variables while growing your pipeline is to work with a data ingestion partner. Dealpath Data Ingestion is a trusted, vetted and proven data service that eliminates manual data entry, allowing firms to act instantly.
Systematizing Investment Decisions With Real Estate Investment Management Software
The goal of implementing real estate investment software should be to drive top-line revenue growth, which means building a strong bottom-of-funnel process is equally as important as finding ways to source more deals. Working from repeatable due diligence workflows prevents vital details from slipping through the cracks as teams collaborate in lockstep.
Download our free eBook to learn how leading deal teams mitigate risk by managing due diligence in cloud-based software.